MetaQuotes Software is 20!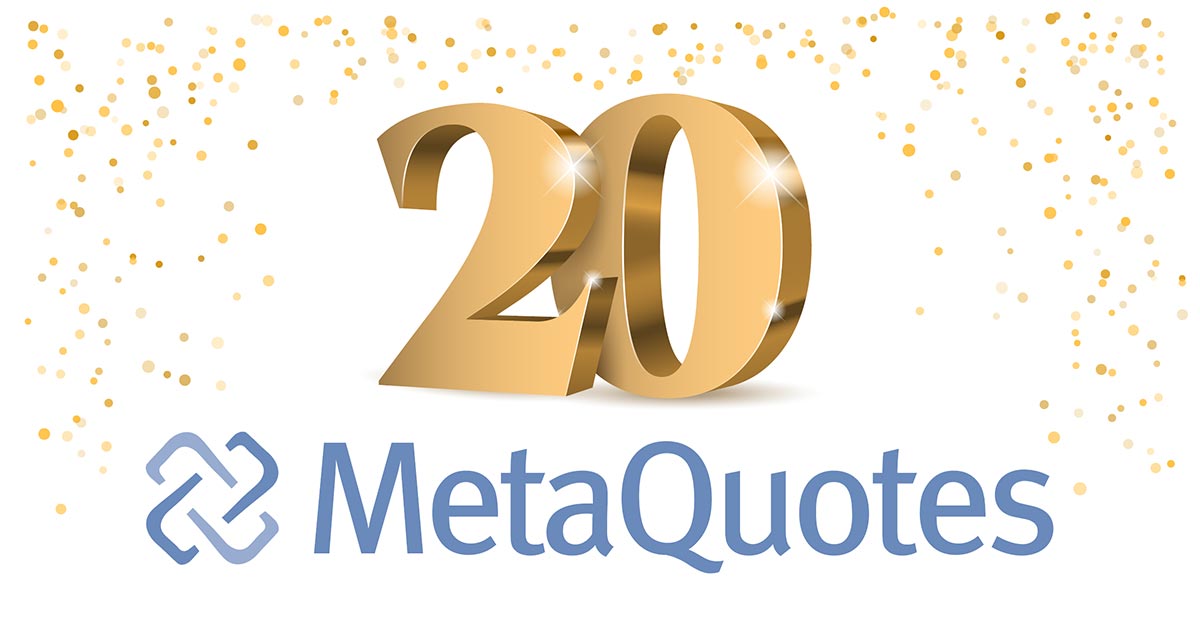 Today, MetaQuotes Software Corp. is celebrating its 20 year anniversary. All this time, we have been moving forward to become a technological leader in the industry.

Here are 20 achievements which we are especially proud of:
Two years in a row, MetaTrader 5 won the Best Multi-Asset Trading Platform at the Finance Magnates Awards
MetaQuotes Software Corp. representative offices operate in 9 countries, over 3 continents
This year, we have launched a unique lead generation program, which drives potential customers to brokers
We have developed a specialized hedge-fund solution
We have released our own Finteza web analytics service, which assists brokers in analyzing and developing their web projects
The company has acquired the popular Searchengines.guru website dedicated to digital marketing
MetaQuotes became a lead investor in the KYC platform Sumsub
Today, MetaTrader 5 is the industry standard for multi-asset trading in a variety of financial markets, so more and more brokers around the world are switching to our platform
In 2020, the platform became the core of the Pakistan Mercantile Exchange (PMEX), and thus more than 300 member brokers operate through MetaTrader 5
In addition to the MetaTrader 5 desktop platform, we have launched mobile applications and web versions
MetaTrader 5 mobile applications have been completely redesigned
MetaTrader 5 has brought in DDoS protection solutions by Cloudflare, Akamai and Qrator Labs
The MQL5.com project has grown into a whole ecosystem, providing access to over 22,000 trading robots and other applications in the Market, with more than 37,000 copy-trading Signals, reliable VPS for round-the-clock trading, a Freelance service, a Code Base of free source codes and a currency pair quotes navigator
We have introduced an Economic Calendar and a separate Tradays app
The MQL5.com website audience has turned into a powerful community of algo-traders, with the website now featuring a unique database of articles devoted to algo-trading, machine learning, Python and neural networks
The powerful MQL5 Cloud Network has been launched to assist users in optimizing trading robots
We have launched a B2B marketplace featuring products for MetaTrader 5 brokers
The new Certification service has been launched for brokerage employees who wish to receive official confirmation of their platform operation skills
We have recently introduced the Automations service aimed at assisting brokers in workflow optimization

One of our latest innovations is the release of the market data Subscription service
Your constant support is key to our continuous improvement and expansion. Thank you for the confidence you show in us and for the fruitful collaboration.