Secure demo mode
Try the web terminal features right now — run the trial version. In our version, only the demo mode is available. It will help you evaluate the efficiency of the trading platform without risking your money. You cannot make real transactions in demo mode.
Real trading is done only via a broker
To start real trading, you need to contact a brokerage company you trust. Each web terminal is assigned to a specific broker and is located on its domain. Pay attention to this before you start trading. For example, if your broker's website is https://www.yourbroker.com, then the platform should also be located on the yourbroker.com domain.
Find the relevant information on your broker's website or otherwise check if it provides access to the trading platform via the new web terminal. You do not need to install any software for a full-fledged access to any function. Choose your favorite browser — the web platform works equally well with Google Chrome, Safari, Opera, Mozilla Firefox and other browsers. You can use any device with any operating system: from Windows desktop to Linux laptop, from iPhone to Android OS smartphones or tablets.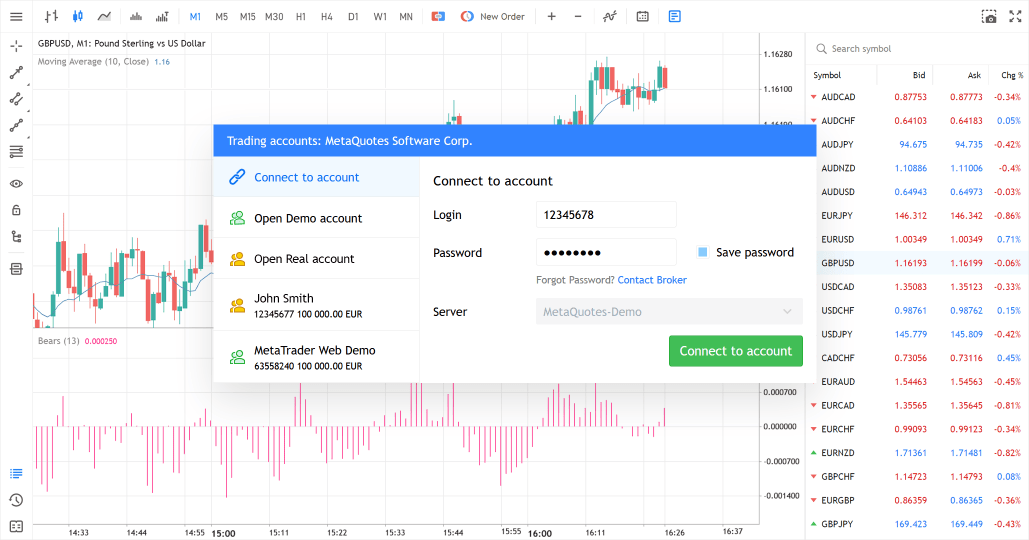 Is my data secure?
No matter what device you use, what browser you use and what network you are connected to, your data is completely secure. Use a computer in a public place, a friend's laptop at a party or a phone while traveling abroad. In any case, encryption protects your data and no sensitive information from the trading platform is available to attackers.

Check out the platform capabilities — run a secure demo right now. No matter what device you are reading this text from, you can turn it into a powerful tool for professional trading in a few clicks.