A Market of MQL5 Programs Opens Its Doors
In late March we announced the launch of the beta version of the new Market service on MQL5.com. Now, when most of the work is completed, we are opening a fully-fledged Market of ready MQL5 programs. We are grateful to all who participated in the beta testing – we have tried to implement most of your suggestions and comments.
Starting today, any developer of MQL5 programs can register as a Seller in this service. After moderation, the programs will be available to all the registered users of the MQL5.community.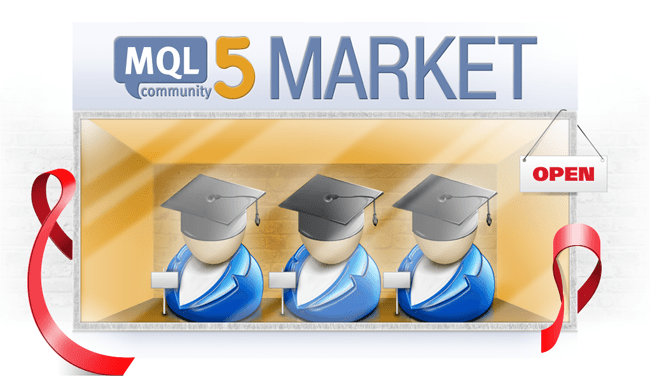 With the Market, ordinary traders can easily purchase MQL5 programs required for their daily activities: Expert Advisors, indicators, trade panels and various analytical tools. Now you don't need to look for MQL programmers, order required programs and patiently wait until they are ready. Simply go to the Market and find a ready solution.
For the developers of MQL5 programs, the Market is an exciting opportunity to capitalize on their skills. Their knowledge of how to develop Expert Advisors can earn them significant income, incase their programs are popular among the user of the MetaTrader 5 Client Terminal. The higher the number of the product downloads is, the more money will appear on the developer's account.
With our new service you may stop worrying about the safety and efficiency of programs. All the developments published in the Market are subject to strict moderation – our specialists will carefully examine each application, filtering out all malicious and non-working programs.
It should be taken into account that the first few weeks you will not find a wide assortment of programs in the Market – this service is only starting to gain momentum. However, developers have already started to submit their programs and accumulation of a large number of offers in the Market is just a matter of time.
We gradually expand the boundaries of automated trading from a purely professional category letting it spread to the masses. Obviously, automated trading requires much more place than just a community of MQL programmers. The release of the MQL5 Wizard made it available to ordinary traders without programming skills. Furthermore, the launch of the Market will accelerate this process.
We invite all developers of MQL programs to the Market – fill out an application, register and sell your programs. You have done a lot to learn the MQL5 language, and now it's time to reap the rewards!