MetaTrader video tutorials by MetaQuotes now with subtitles in 7 languages
17 video tutorials about the built-in services in the MetaTrader 4/5 platforms are now provided with subtitles in 7 languages in addition to English and Russian voice over. Now you can watch all videos about algorithmic trading, virtual hosting and trading signals with Spanish, Portuguese, German, Chinese, Japanese or Arabic subtitles. So the videos are available in 9 languages, which are native to the 3.2 billion people in more than 150 countries, and more than half of the world's population speak at least one of them as a foreign language. It means that most of the traders from around the world can now view and understand the videos about the popular trading services.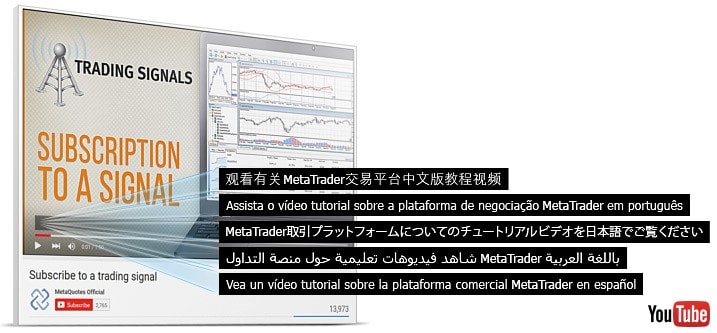 MetaQuotes' official YouTube channel features 34 video tutorials with subtitles available in the English version. All the videos are organized into playlists for your convenience. The "Market" playlist demonstrates how to find a required application from the MetaTrader Market, as well as how to test, purchase and use it in the trading platform. Watch the videos about Virtual Hosting to learn how to rent a virtual platform and migrate your trading environment. Seven videos about copy trading walk you through the process of copying deals of professional traders to your trading account.
Subscribe to our YouTube channel, watch the video tutorials in the language you understand and explore new trading possibilities. We speak your language now!