MetaQuotes Software will participate in iFX Expo Asia 2017
MetaQuotes Software will present its latest developments at the international iFX EXPO Asia 2017 B2B event to be held on February 21-23 at the Hong Kong Convention & Exhibition Centre. The event will gather more than 700 participants. Our company is going to act as a Workshop Sponsor during the event.

At the Expo, we will highlight the new features in all versions of the MetaTrader 5 multi-asset platform and share its further development plans. We believe, this information will be of interest for iFX EXPO Asia visitors since the era of MetaTrader 4 is coming to an end and the fifth generation of our trading platform is gradually moving to the forefront.
By the end of 2016, the number of brokers offering trading on financial markets via MetaTrader 5 reached 100. This massive migration has changed the landscape of the industry leaving its participants with numerous questions: "Why are brokers switching to MetaTrader 5?", "Why is MetaTrader 5 better than MetaTrader 4?", "Should we also launch MetaTrader 5?" We will answer these questions during our workshop "MetaTrader 5 Latest Developments" — visitors of the iFX EXPO Asia event will know our plans for MetaTrader 5 platform and how it is going to affect the brokerage business.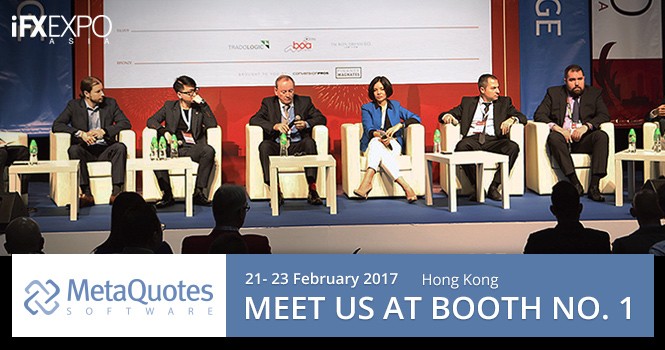 Besides, we are going to announce the launch of a new project — trader coupons that allow paying for the MetaTrader platform built-in services. Brokers will be able to use the coupons to support their traders wishing to buy a virtual hosting, a Market robot or a subscription to a trading signal. Find out more about the project at our booth.
We invite everyone to visit the booth #1. See you at the event!
iFX EXPO Asia
February 21-23, 2017
Hong Kong Convention & Exhibition Centre