MetaQuotes Certification: "Test your mastery of everyday activities"
This year we have introduced a new service — certification of specialists working with MetaTrader 5. Certification can be passed in three areas: Administrator (for platform administrators), Manager (for those working with clients) and Dealer (for dealers and risk managers).
The certification has two stages. First, candidates take the online test consisting of 80 questions. Here they need to choose the right answer from several options. The passing score is 70%. The candidates have two free attempts. The second stage is a video interview, during which a MetaQuotes employee tests the candidate's knowledge verbally. This usually takes about 30 minutes. The second stage costs USD 300. Upon successful completion of both stages, each participant receives an official personalized certificate from MetaQuotes.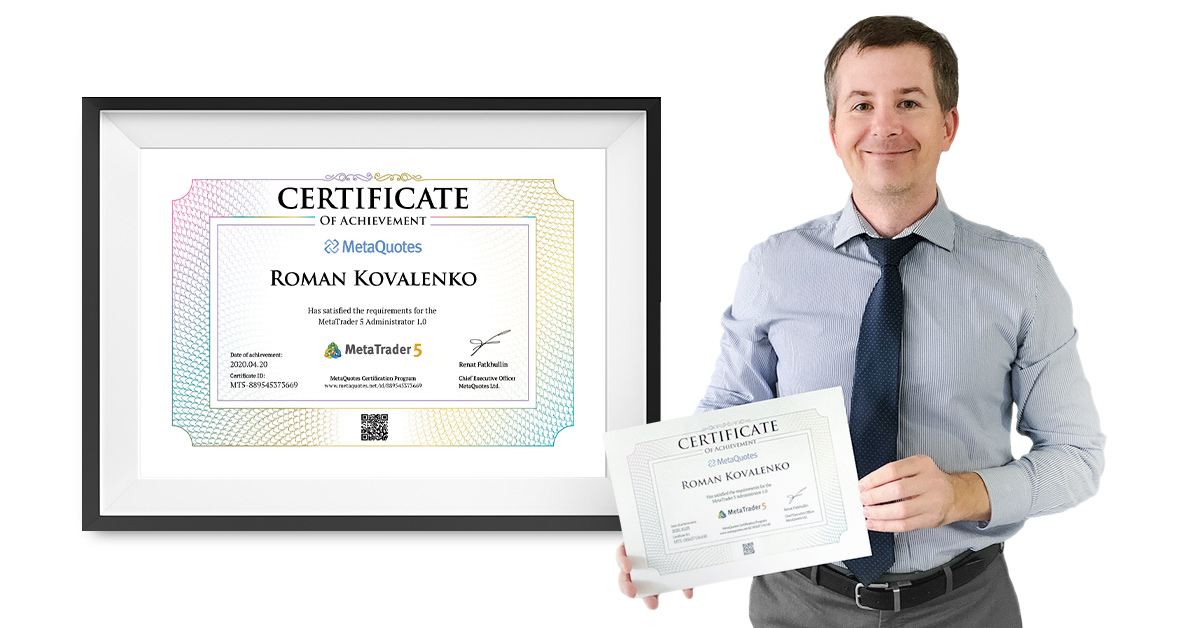 Mr Roman Kovalenko, Head of Trading Platforms Integration, Exinity
Exinity group of companies has recently ordered certification for its employees. The group includes two global retail brokers FXTM and Alpari serving over three million clients in 180 countries. Newly certified Exinity specialists have shared their experience, including the preparation stage, the challenges and the benefits.
Alexander Anokhin, Head of Global TPA:
Exinity pays much attention to the smooth operation of its clients' trading platforms, so we decided not to miss this unique opportunity to test our knowledge.

I prepared for the certification after work. In total, it took two weeks. The MetaTrader 5 built-in help includes all the necessary information. I spent a lot of time installing and configuring all the components on test computers. Besides, I had to tinker with recovery tests.

The online test turned out to be a more difficult stage for me. But in the end we did it, which means we meet our company goals quite well. I boosted my skills and learned new techniques to use in my work. In particular, I learned much about protection against DDoS attacks and experienced all the advantages of the auto switching mode on test computers.

I recommend the certification to all my colleagues — it allows testing the mastery of everyday activities.
Anton Prikhodko, Trading Platforms Operations — Administration Team Leader:
Now I think that it is possible to pass the certification for MetaTrader 5 even without preparation. We have been using MetaTrader for a long time, so the certification is not the biggest challenge. The interview seemed a little more difficult, however.

I prepared for the certification for about a week using the built-in documentation — it contains the answers to almost all questions. Basically, I refreshed what I already knew, while I gained gaining some new information along the way. If you want to comprehensively refresh your knowledge, the certification definitely helps.
Mr Roman Kovalenko, Head of Trading Platforms Integration:
Our company views certification as an opportunity to test and formalize the skills of working with the platform. Furthermore, the official confirmation of the employees' expertise can be beneficial.

I did not know what awaited me during the test, so I put much effort into preparation, studied unfamiliar topics and delved into all the nuances of calculations. I worked even harder while preparing for the interview since I had only two attempts. Eventually, not everything was useful but studying the documentation has provided me with a few ideas I currently apply in my work.

As a result, the interview part was easier as we talked more about my actual daily activities. The online test had some theoretical questions I had never encountered before.
All certification types are available in MetaQuotes' official App Store for brokers.