Trading
Trade Forex, stocks and futures. Gain the widest opportunities for trading currencies, stocks and other instruments: technical and fundamental analysis, algorithmic trading, two position accounting systems, a full set of trading orders, one-click trading, and more.

Netting and hedging position accounting systems
You have access to two order accounting modes: the netting mode is adopted on exchange markets, while the hedging method can be used for Forex trading. With the netting system, the trader will be able to have only one open position of a financial instrument at a time. The volume of that position can be increased or reduced through any further operations on the same symbol. With the hedging system, any new deal on a financial instrument opens a new position. Individual Stop Loss and Take Profit levels can be set for each of the open positions.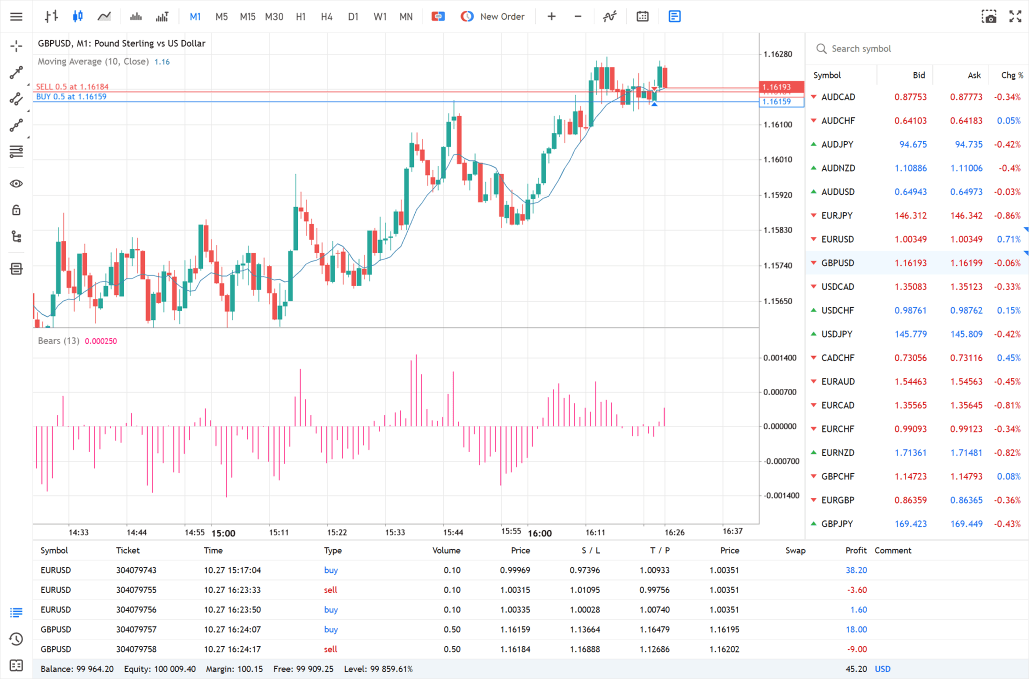 Full set of trading orders and all types of execution
The web platform supports all types of trading orders, including market, pending and stop orders, as well as Trailing Stop. Four order execution modes are available to meet various trading objectives: Instant, Request, Market and Exchange execution.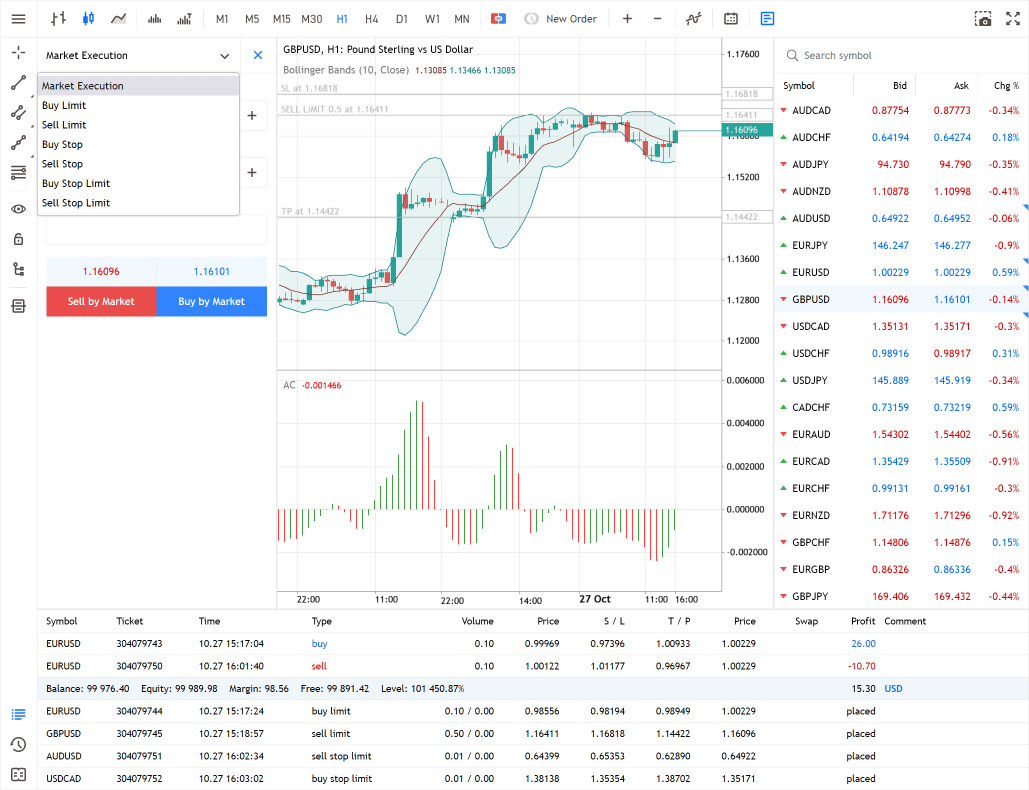 Advanced market depth and one click trading
The market depth is one of the basic tools reflecting supply and demand for liquid tradeable assets. It displays buy and sell offers for a financial instrument at the best prices, which are closest to the market one. Using the market depth in MetaTrader 5, you can buy or sell financial instruments at the current market price as well as place pending orders at desired prices. The market depth allows users to manage stop levels (Stop Loss and Take Profit) of open positions and pending orders in one click.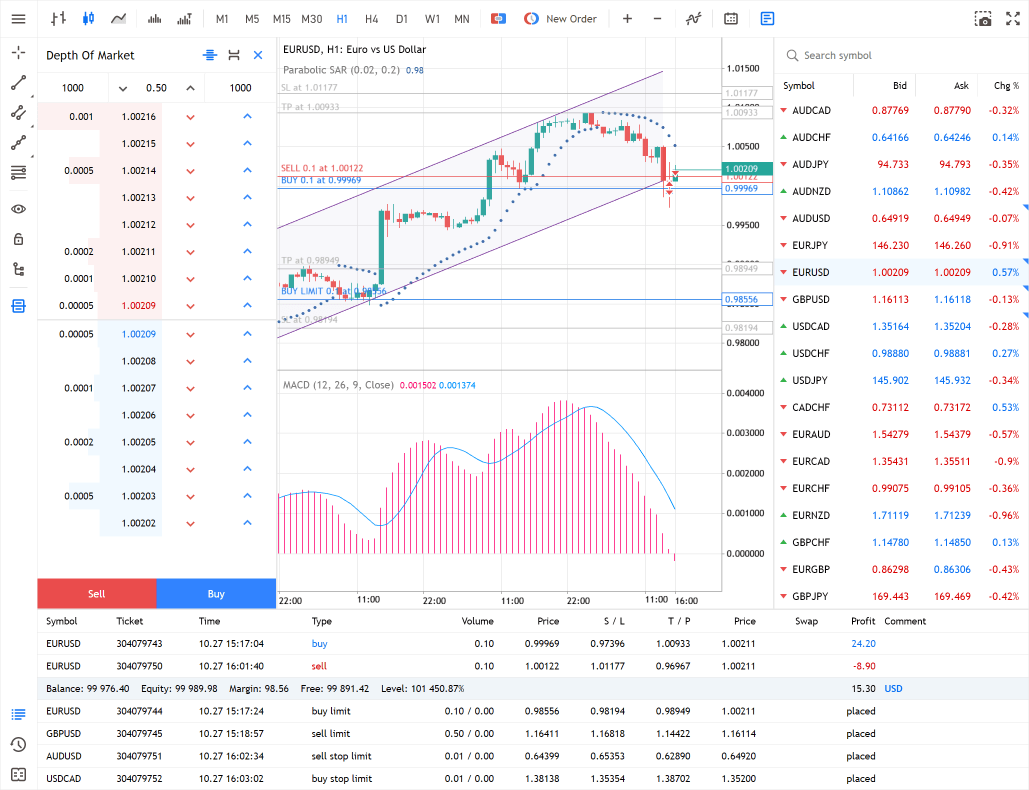 30 indicators and 24 graphical objects for technical analysis
The platform features the most popular technical indicators: trend indicators, oscillators, volume indicators and Bill William's tools. The settings of most indicators allow you to adapt them to specific tasks. You control both analytics and appearance. Indicators can be added to price charts or to a separate sub-window with an individual scale of values. Some tools can be superimposed on others: for example, you may apply a Moving Average on DeMarker and obtain a line of averaged values.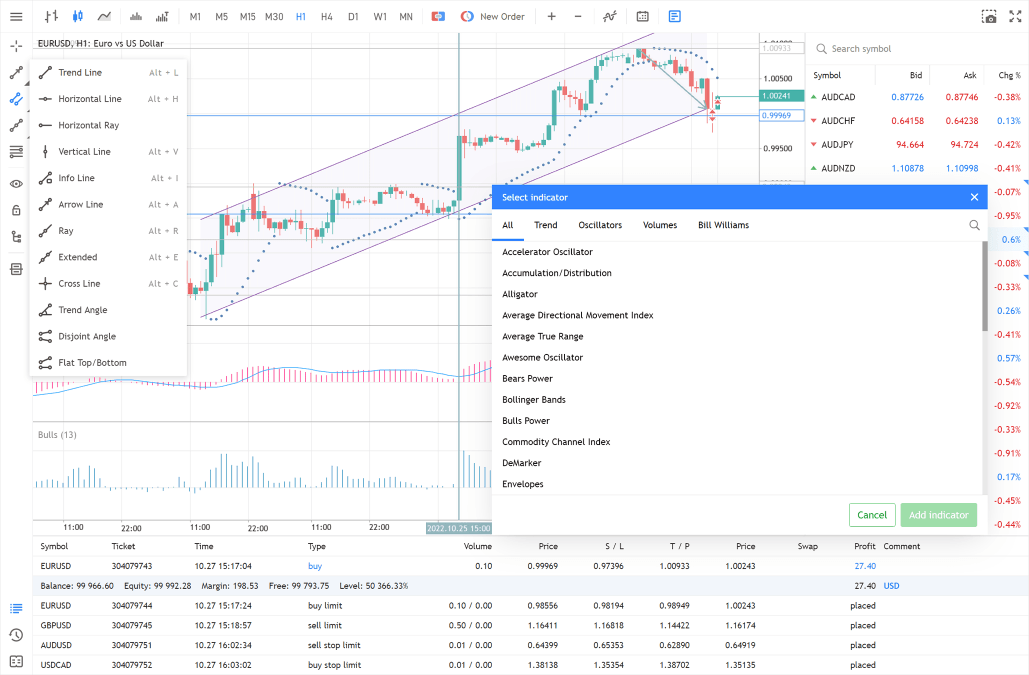 3 chart types and 9 timeframes
Multiple settings allow you to adapt the charts to your requirements and create an efficient workspace. The platform supports three types of charts: broken line, bars and Japanese Candlesticks. 9 timeframes are available for each chart — from one minute to one month. Stock and currency quotes can be presented on the timeframe which suits your trading system best. In addition, the charts display additional information that facilitates technical analysis: tick volumes, last price lines, OHLC and more.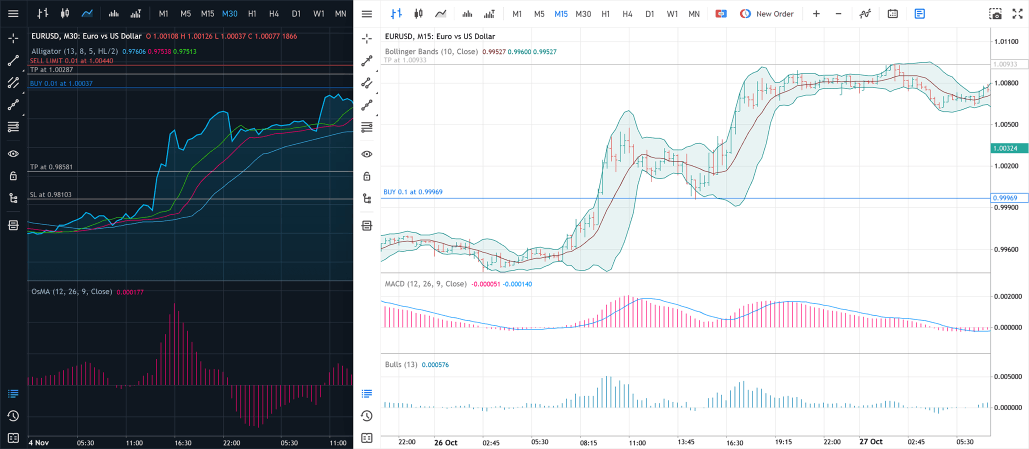 Real-time quotes in Market Watch
View price data of financial instruments: quotes, price statistics and tick chart. Analyze contract specifications and perform trades in one click.