MetaQuotes Software will participate in Investor Finance Forum 2017 in Bulgaria
The Bulgarian representative office of MetaQuotes Software Corp. — MetaPenta Software Ltd. — is to present new services and developments for MetaTrader 5 brokers at the Investor Finance Forum. The Forum is to be held on December 1 at Inter Expo Center (IEC) in Sofia and bring together professionals working in the currency and stock markets. Our company acts as one of the event sponsors.
Investor Finance Forum is held by Bulgaria's leading financial portal Investor.bg for the sixth year in a row and is an important event not only for individual investors, but for the entire local financial industry. This year, special attention is to be paid to global economic trends, crypto currencies and practical advice on investing in the current conditions.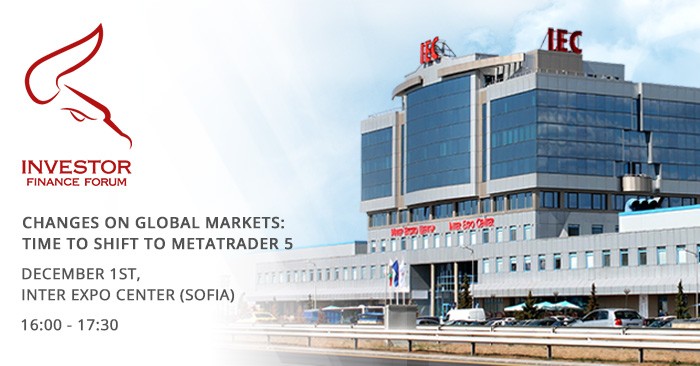 At the seminar "Time to shift to MetaTrader 5", the representatives of MetaPenta Software Ltd. will highlight the new features in all versions of the MetaTrader 5 multi-asset platform and share its further development plans. The seminar is to be followed by a Q&A session with the speakers.
"Six months have passed since the launch of the MetaQuotes representative office in Bulgaria, and we see that the interest in MetaTrader 5 remains as high as before", says Emre Peser, Head of MetaPenta Software. "Large regional brokers Benchmark Finance, Euro-Finance and Varchev Financial Services already offer traders the most advanced platform for multi-asset trading. Several other famous names are on their way. Nevertheless, I see great prospects for further expansion of the market share. We will reveal the reasons for such optimism at the seminar".
We invite you to visit our booth in the Inter Expo Center lobby on the first floor and find out all the exciting details first hand. Sign up and buy the ticket to the Forum here.

Investor Finance Forum
December 1, 2017
Inter Expo Center, Sofia