170 global brokers from Australia to Brazil offer MetaTrader 5
The migration of brokers to MetaTrader 5 is ongoing — JFD Brokers, Alfa-Forex, FreshForex, IGM Forex and USGFX have recently announced the launch of the platform with support for hedge accounts. The Irish broker Squared Financial Services, Terra Investimentos from Brazil, Iraq-based Durian, as well as SDT Brokerage are also among the companies that started offering the multi-asset HFT platform to their traders in the summer of 2017.
The number of brokers switching to MetaTrader 5 grows weekly — over 170 industry participants currently offer the flagship platform to their clients. This dynamic is also due to active growth of the B2B market around MetaTrader 5 — more and more integrators become interested in developing institutional solutions for the new platform satisfying brokers' needs.
"I`ve been using MetaQuotes trading platforms since the early start of my FX career", says Wasim Zayed, Deputy General Manager at IGM Forex Ltd. "It has always gained my trust as an ultimate trading platform a reputable broker can offer to the traders. The rapid evolution of the forex business and the changes in the regulatory environment, all have been adopted and integrated in the MetaTrader 5 platform. This has become a substantial argument for us in favor of its launch. At the first phase, our clients will experience the basic MetaTrader 5 environment with hedging capability, at the second phase, they will be able to experience the market depth (Level II) trading environment with deep market liquidity, and at the third phase, our clients will be able to experience trading directly with the exchange".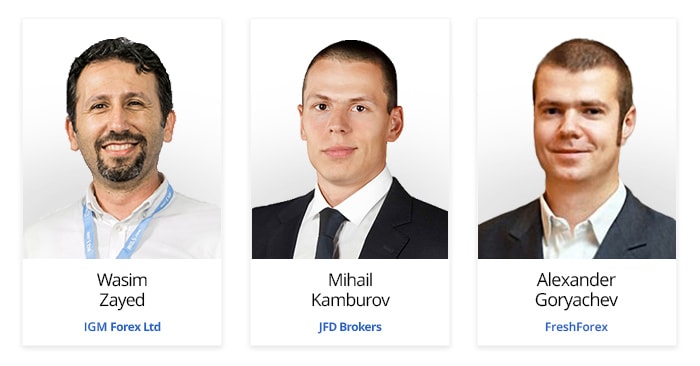 "We chose to launch the MetaTrader 5 because its infrastructure is optimized to suit the needs of a fast-growing broker like JFD", states Mihail Kamburov, COO at JFD Brokers. "This advanced terminal adds extra flexibility while at the same time maintaining system security. We wanted to follow the next step of technology evolution in order to stay on top of innovations in our industry. MetaTrader 5 already comes with new, improved features such as an economic calendar, more order types and a wide range of time frames. To give traders that additional edge, we have created an exclusive version of the trading platform with a unique set of Add-Ons that features a lot of handy tools designed to further improve their trading."
"MetaTrader 5 is a versatile platform equipped with all the necessary tools for successful trading in financial markets with the familiar MetaTrader 4-style interface", points out Alexander Goryachev, leading analyst at FreshForex. "The extended set of timeframes and technical analysis tools allow traders to conduct a detailed market analysis and detect price movements in time. Our clients have been looking forward to the MetaTrader 5 launch to evaluate the expanded and improved functionality of the next generation platform, and we are happy to offer them this opportunity!"