Now your traders can quickly and safely top up their accounts without leaving the MetaTrader 5 platform and without completing extra authentications. Users can top up their trading accounts via bank transfer, card or payment systems.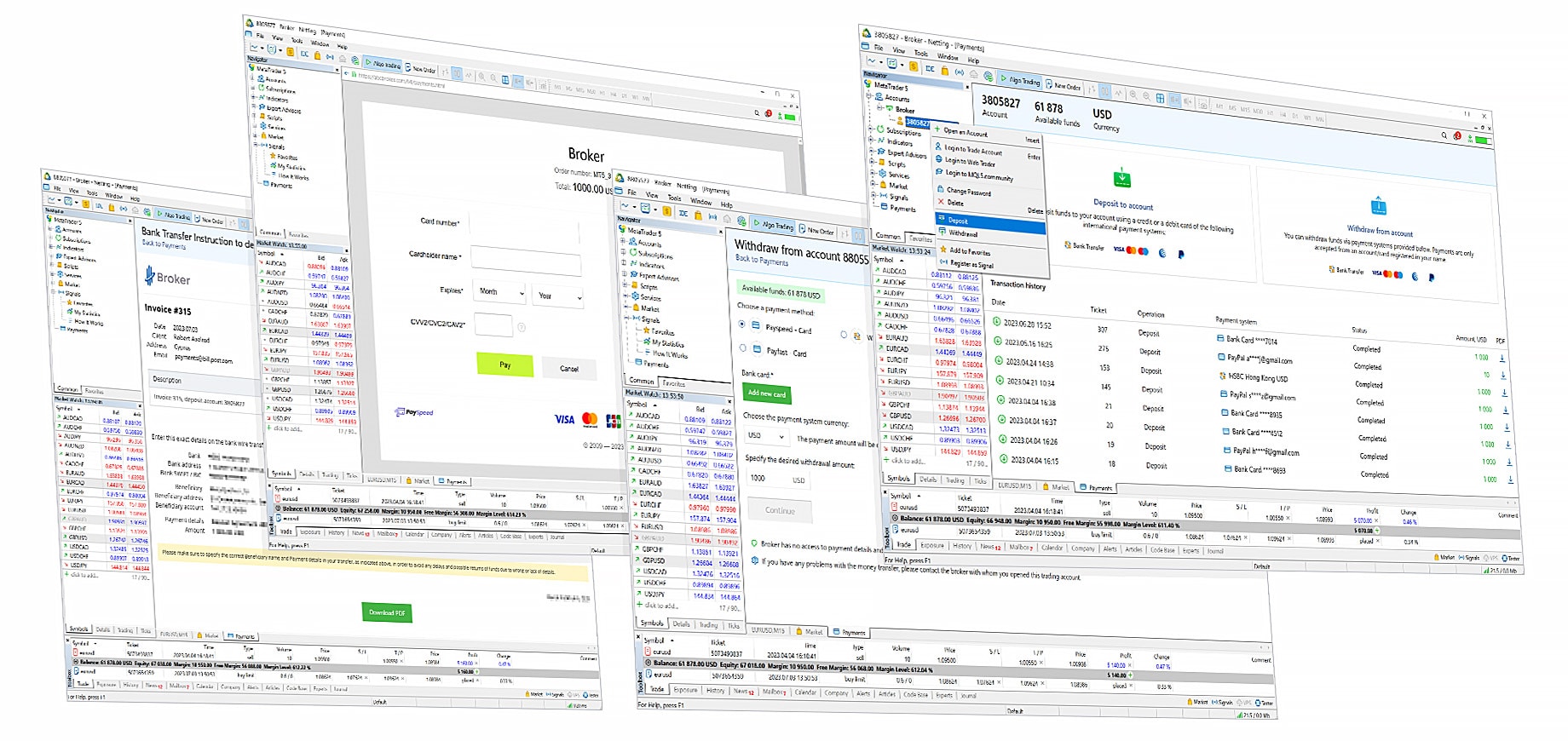 Built-in payments will make working with the platform more convenient for both MetaTrader 5 users and brokerage companies. Use the service to shorten your sales funnel and simplify new clients onboarding. This is an excellent solution for experienced companies and especially startup brokers, who will find it easier to launch their own business without the extra costs of developing and implementing their own payment system.
What business issues you can solve:
Excessive cost of maintaining business infrastructure - there is no longer a need to develop, maintain and support a separate website and your own payment solutions.
Large losses during conversion from potential clients to real accounts - now users need to take fewer actions before they reach a real transaction.
Complex onboarding - due to the large flow of clients and manual processing of applications, the load on various business nodes increases. This leads to a cascade of bottlenecks slowing down the customer base growth and preventing scaling. In combination with other MetaQuotes products, you can transfer the handling of new clients to the trading platform.
Benefits of built-in payments
More accounts

Users no longer need an account in your website - they can download the platform and start trading immediately. Eliminate unnecessary onboarding steps with built-in solutions to get more demo and live accounts.

Ready-made payment solution

You do not have to create and maintain infrastructure to register clients and make payments - MetaTrader 5 can take over these functions.

Increased trading volumes

It can be easier for traders to react to a favorable market situation without switching between windows and additional authorizations. This can make decision making faster contributing to higher growth in user deposits.

Improvement without investments

Built-in payments are a free solution which does not require developing resources or additional settings. Help your customers and save resources.