Closing Positions
The Depth of Market allows you to view the state of open positions for a symbol, as well as to close them quickly if necessary.
To view detailed information about positions for the current instrument, tap on the symbol name at the top of the Depth of Market.
To close a position on a netting account, tap "Close" at bottom of the Depth of Market. No additional confirmation is needed.
If an account uses the hedging mode, a user can have multiple open positions of the same instrument. Therefore, to close a position from the Depth of Market, it must be explicitly selected. Only after that the "Close" button will become active.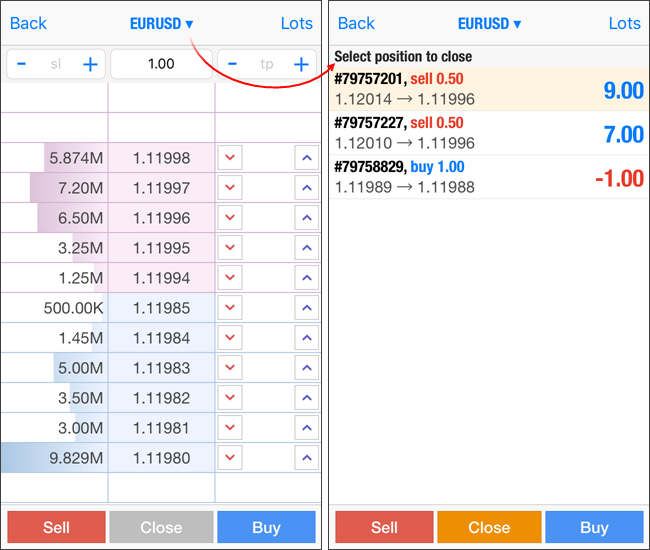 Trade Requests #
Placing a trader request means creating a pending order to buy/sell a financial instrument at a specified price. 4 types of pending orders: Buy Limit, Sell Limit, Buy Stop and Sell Stop can be placed from the Depth of Market. The conventional way of performing trade operations should be used to place Buy Stop Limit and Sell Stop Limit orders.
Placing an Order
To place a pending order, tap on the bid/ask volume cell having a required price: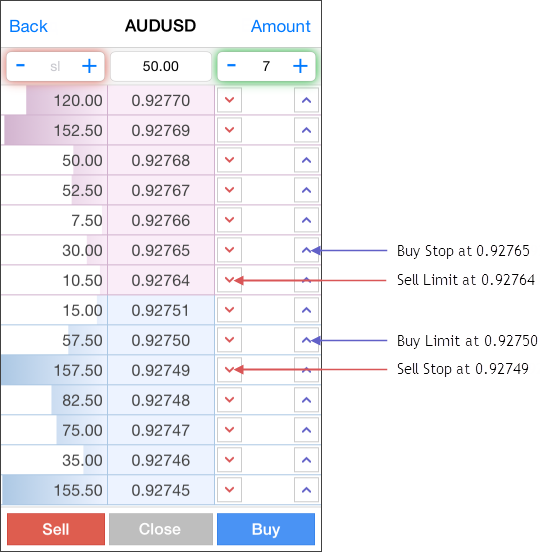 After you tap on the appropriate field, a request for placing a pending order will be immediately sent to the server. The order will be displayed in the Depth of Market upon successful placement. As soon as there is a market participant ready to sell the financial instrument at the specified price, the order will be filled and will turn into a position.
Transferring Orders to an External Trading System
Pending orders may or may not be transferred to an external trading system depending on broker's symbol settings. For example, a broker may transfer Limit orders directly to an external trading system while other order types (Stop and Stop Limit ones) will be processed in MetaTrader 5:
An appropriate market operation is executed when the stop price specified in a Buy Stop or Sell Stop order is reached.

When the stop price specified in a Buy Stop Limit or Sell Stop Limit order is reached, an appropriate limit request is executed, which will be visible to other market participants.