Getting started
In order to start trading from your mobile device, download MetaTrader 5 from the application store Google Playor by using the Google Play application on your device.
After installation, run the application by tapping the icon

on the screen.
The MetaTrader 5 for Android can be used on a smartphone or a tablet PC powered by the Android 5.0 or higher. In addition, to connect to a broker's trading server, Internet access is required.

It is also possible to install the application in older versions of Android (2.1 and above), but some functions will not be available. Support is unavailable for the older application versions.

It is recommended that you update MetaTrader 5 regularly, which will provide enhanced features and greater stability.
Application GUI
The interface of the MetaTrader 5 mobile platform consists of the main working area, the bottom panel and the side panel, which allow switching between the main functions of the program.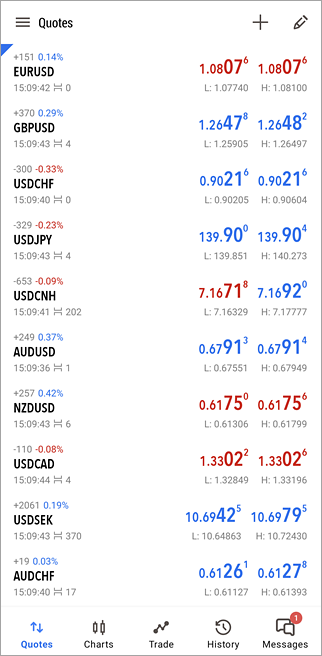 Using the "Menu" button, you can go to account or symbols management, or make trade operations, depending on the current tab.