Settings
In order to open the settings of the MetaTrader 5 for Android, select the "Settings" item of the side panel which opens at a tap on

.
The following settings are available here:
Advanced mode

– switching between the full and short representation of information in the "Quotes" window. If you enable the extended view, the tab displays additional information about symbols: spreads, time, the High and Low prices. In the simple view mode only the Bid and Ask prices are shown.

Order sounds

– enable/disable sound notification of trade operations: opening, modifying, closing positions, placing orders, etc.

One Click Trading

– the trading platform allows performing trade operations in one click without additional confirmation by trader (trading dialog is not displayed). The function is available in the Market Depth. Before you start using it, you should accept special terms and conditions.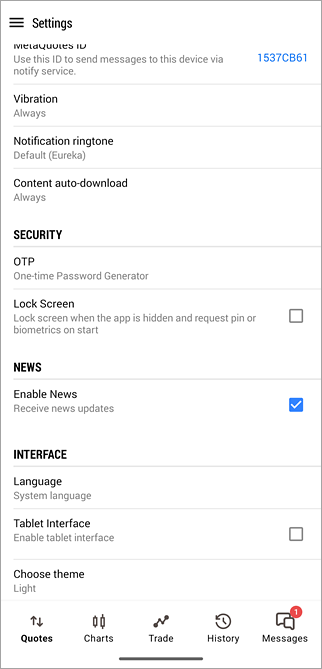 MetaQuotes ID

– your unique identifier for receiving notifications.

Vibration

– configuration of vibration when receiving push notifications: never use vibration, in silent mode only, always use vibration.

Notification ringtone

– select a sound that will be played when a push notification is received.

Download content automatically

– this option sets a chat attachment downloading mode:
Never

– download only manually by clicking on the attachment.

Use Wi-Fi only

– attachments will be downloaded automatically when connected to a Wi-Fi network.

Always

– auto-download files on any Internet connection, including mobile networks.

Language

– using this menu, you can switch between 25 languages of the mobile platform interface without changing your device language settings.

Enable News

– enable/disable delivery of newsletters to the mobile platform.

Tablet Interface

– switch the application interface to the tablet mode. Normally, the application correctly detects the device and turns on the appropriate view automatically. However, some intermediate options – the so-called "phablets" – may require manual switching.

Choose theme

– color scheme for the application interface: light or dark. The color scheme selected in the system settings of the mobile device is applied by default.