Account Management #
Each account that is used for the connection is saved in the list. In order to connect to the account, just tap on its line or select "Login" in its context menu.
Adding accounts

– to open a new demo account or connect using details of a previously opened account tap at the top of the window.
Deleting accounts

– to remove an account from the list, open the context menu by a long tap (about 1 second) on its line. Then select "Delete". To delete the current account, you can also use menu .
Managing Certificates #
The trading platform provides the option of extended authentication using SSL certificates greatly increasing the system security. Press

.
One Time Passwords
Use of OTP (one-time passwords) provides an advanced level of security when working with trading accounts. The user is required to enter a unique one-time password every time to connect to an account.
In order to open the one-time password generator, tap

.
Connection Status
The status of connection to the server can be tracked through the side panel of the application. A rotating indication next to an account number means the app is not connected to the server.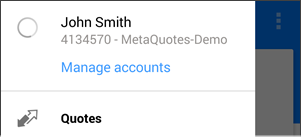 A trading platform icon next to the account number is an indication of an active account connection.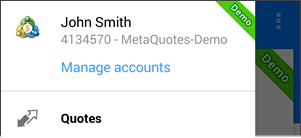 Deposit and withdrawal #
The trading platform allows quickly switching to deposit/withdrawal operations on your broker's website. You do not need to search for these functions in the trader's room, while fast navigation commands are available directly in app: in the trading section and in the current account dialog: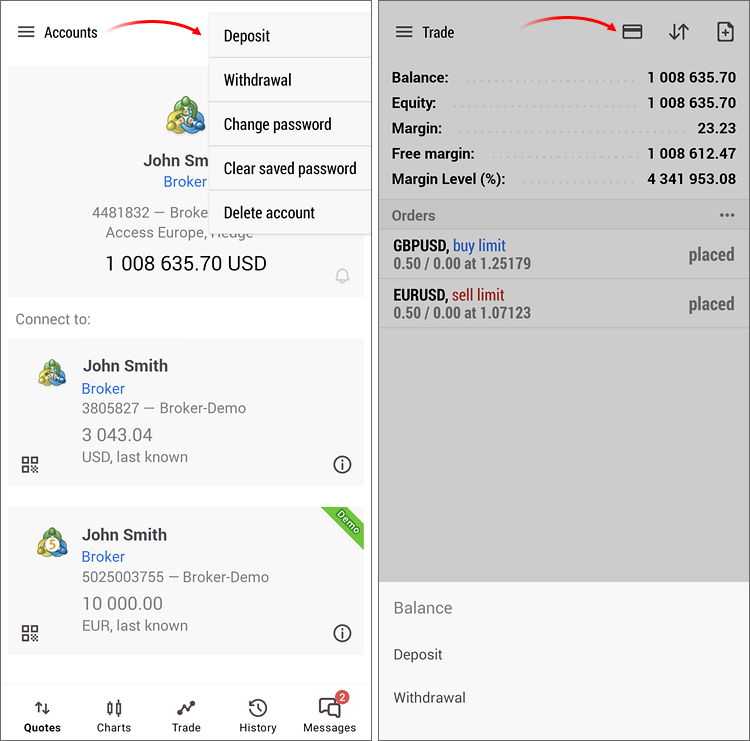 Deposit/withdrawal operations are only available if appropriate functions are enabled for the trading account on the broker side.

The trading platform does not perform any account deposit/withdrawal operations. The integrated functions redirect the user to the relevant broker website pages.
Context menu #
To display a context menu, tap and hold the account line for a second. It contains the following commands:
Delete

– delete a selected account.

Properties

– show account details: number, owner, server name, leverage and initial deposit.