Working with windows
The main part of MetaEditor workspace is intended for editing source code of programs. All currently opened files are displayed as tabs. To start editing a certain file, click on its tab.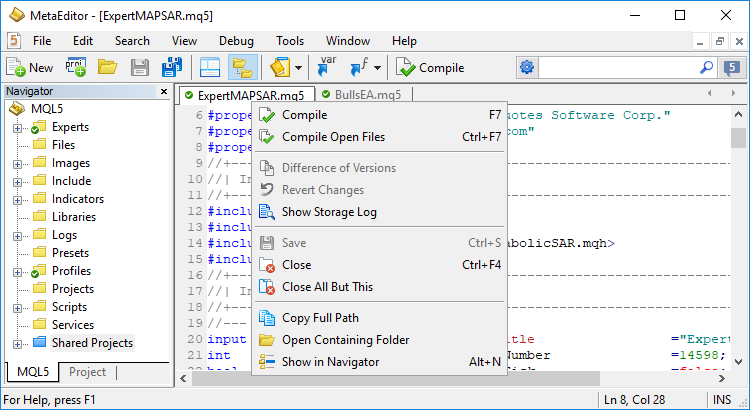 Location of file windows can be changed by Window menu commands or Standard toolbar. To expand or collapse the tab, double-click its name.
The context menu of tabs features the following commands:
Compile

– compile the current program code.

Compile Open Files

– compile all files currently opened for editing.

Save

– save a change in the current window. The same action can be performed by pressing Ctrl+S.

Close

– close a selected tab. The same action can be performed by pressing Ctrl+F4 or clicking the middle mouse button on a tab name.

Close All But This

– close all tabs except the current one.

Copy Full Path

– copy the full path to the edited MQL4/MQL5 program file to clipboard.

Open Containing Folder

– open folder containing the current file.
The context menu of the code editing window duplicates the Edit and the Standard toolbar commands.