Search
This toolbar allows you to search for information in a program text, user files, as well as different MQL5.community sections.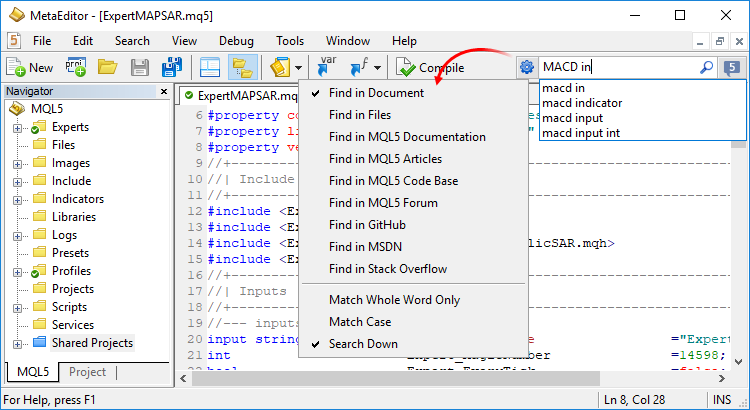 To execute search, enter a necessary word or phrase and click
or press Enter. As you type, the system immediately offers the most popular query options. Search results are displayed in a separate tab of the Toolbox window with a convenient division into categories: Articles, Market, Code Base, Signals, Forum, Documentation and Platform.
To configure your search, click
:
Find in document

– when enabled, a search is performed within a currently opened file. Found elements are found in the text;

Find in files

– when enabled, a search is performed on all files located in a folder specified in the Find In Files window. Search results are displayed in the Search tab of the Toolbox window;

Find in MQL5.community

– when enabled, a search is performed within MQL5.community website. MetaEditor features the smart and high-performance search throughout MQL5.community – community of traders and MQL4/MQL5 developers. The site contains all kinds of useful information: documentation, forum, blogs of traders and analysts, articles related to programming and platform use. The community provides access to the huge source code database and the application store for the platform.

Match Whole Word Only

– this option allows to search by a particular word form, only the word or phrase that exactly match the search query will be found;

Match Case

– enable/disable case sensitivity when executing the search query;

Search Down

– if disabled, the search is performed upwards from the cursor position in the file. When enabled, the search direction is reversed.
You can search only in one section at a time simultaneously. The section is selected in the settings.