Search
This toolbar allows you to search for information in a program text, user files, as well as different MQL5.community sections.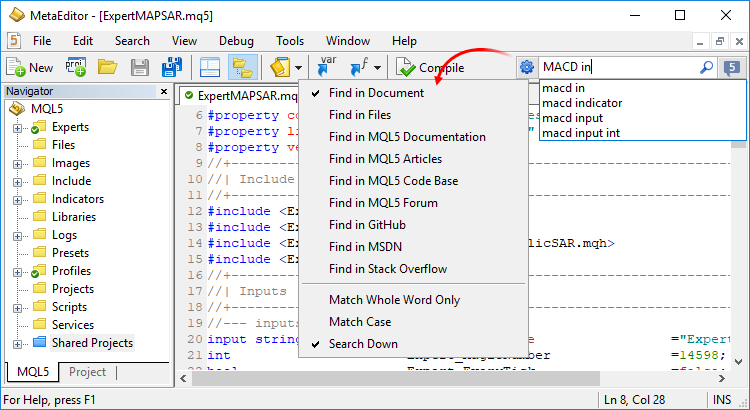 To execute search, enter a necessary word or phrase and click
or press Enter. As you type, the system immediately offers the most popular query options. Search results are displayed in a separate tab of the Toolbox window with a convenient division into categories: Articles, Market, Code Base, Signals, Forum, Documentation and Platform.
To configure your search, click
:
Find in GitHub, MSDN, Stack Overflow

– in addition to MQL5.community, the search includes other popular platforms, such as GitHub, MSDN and Stack Overflow. Search results from external resources appear in the toolbox window. Furthermore, you can immediately download source files from GitHub. Files are downloaded

into a separate subdirectory of the Projects folder, named in accordance with the GitHub project name.
Match Whole Word Only

– this option allows to search by a particular word form, only the word or phrase that exactly match the search query will be found;

Match Case

– enable/disable case sensitivity when executing the search query;

Search Down

– if disabled, the search is performed upwards from the cursor position in the file. When enabled, the search direction is reversed.
You can search only in one section at a time simultaneously. The section is selected in the settings.