Connecting the Storage
To use the MQL5 Storage, you need a valid account on the MQL5.community website.
Enabling Storage in MetaEditor
To start using the MQL5 Storage, execute the "
Activate MQL5 Storage" command in the context menu of the "Navigator". The window where you need to specify your MQL5.community account is opened: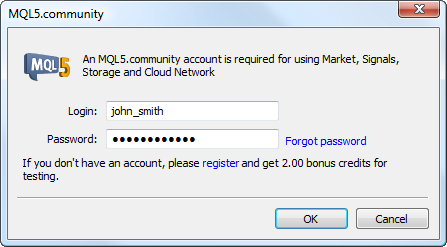 The login as well as the password is case-sensitive. It must exactly match the login at MQL5.community.
If you don't have an account, you can quickly and easily register.
The specify account will be added to MetaEditor settings: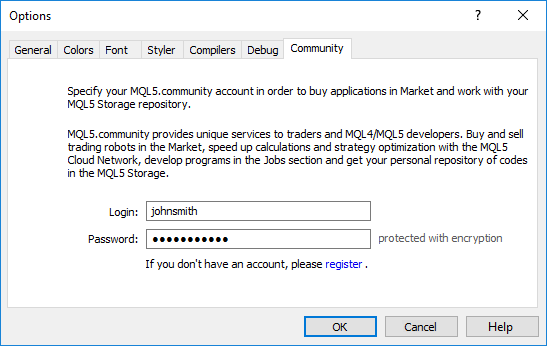 After specifying the MQL5.community account you can start working with the storage via the context menu of the "Navigator" window.
Enabling Storage at MQL5.community
You can enable the MQL5 Storage through your user profile at MQL5.community. Go to your account profile and select the Storage tab:
Then enable the "Use MQL5 Storage" option. After you enter the current password, a private repository will be created for you. It will be available only to your MQL5.community account. After enabling the storage on the site, specify your MQL5.community account details in MetaEditor settings.
The contents of the repository can be viewed directly from the profile. To do this, click on "View". After specifying you account data for authentication, you will jump to the storage view:

Here you can view all files stored currently in the Storage. The upper part shows the current revision (Revision). A revision is a state of the storage at a point of time. Each time you send changes, a new revision is created in the storage.