Fundamental Analysis
The purpose of fundamental analysis is in the constant monitoring and studying of various economic and industrial indicators, which may affect the quotes of a financial instrument.
For example, annual report releases, news about a new contract or a regulatory law can seriously affect the price of company shares. To keep abreast, you need to constantly analyze this information.
Where can I read the financial news
Straight in the platform you can receive financial news from international news agencies. This helps you stay updated and take appropriate trading decisions.
News items appear on the News tab of Toolbox window. To read the news, double click on its title.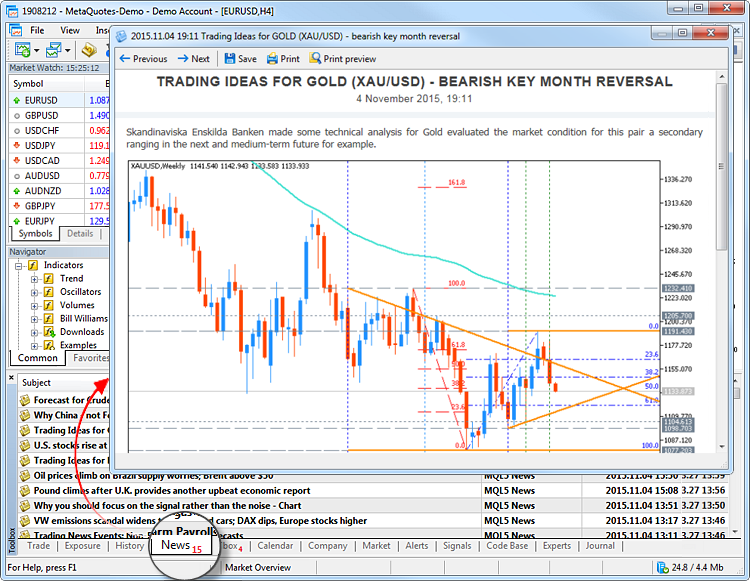 Why do brokers provide different news?
Any financial newsletters can be received in the trading platform. Every broker selects the news types and providers.
How to configure the news language?
Newsletters in various languages can be received in the trading platform. To configure the list of languages, open the platform settings by clicking "

Options" in the Tools menu.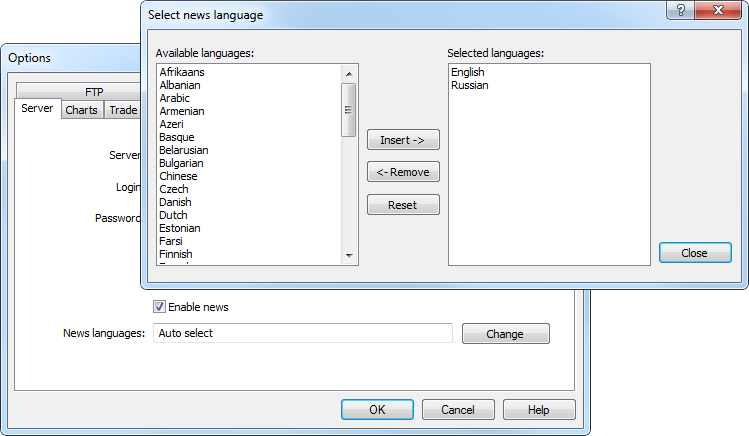 Click "Edit" in the "News Language" field and select the desired languages. The default is automatic selection, i.e. newsletters are filtered by the platform interface language. If you do not want to receive newsletters, uncheck "Enable news".
For your convenience, the newsletters are divided into categories. Open the context menu in the news tab. Click "Customize" in the submenu of news categories to open their setup window: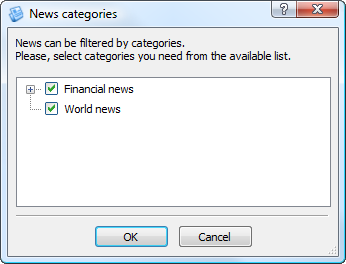 In the tree-like list, select the news categories you want to display in the trading platform.
The types of available categories are defined by the data provider chosen by your broker.
How to follow macroeconomic indicators?
In addition to the news, the platform contains the Economic Calendar. It provides publications of macroeconomic indicators — some parameters describing the state of the country they are calculated for. They characterize the level of economic development and indicate either economic growth or decline. They are used for forecasting price trends.
Macroeconomic indicators can be views on the "Calendar" tab of the "Toolbox" window.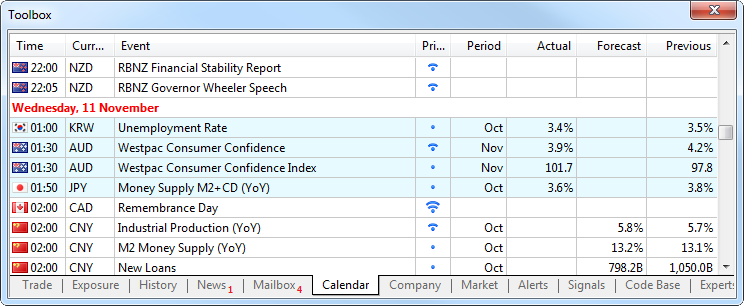 The calendar features current week events, including past and upcoming events. Every indicator is provided with the release time, priority, as well as its current, forecast and previous values. The current value appears as soon as the indicator is released. If this value is less than the predicted one, the indicator is highlighted in red. If the current value is larger, the indicator is shown in blue.
Types of Macroeconomic Indicators
Macroeconomic indicators are categorized based on the countries for which they are published. Read the detailed description of the most popular indicators in further topics:
How to display the macroeconomic indicators on a chart?
Information about macroeconomic events can be displayed on the charts of corresponds currency pairs. You can visually assess the impact of various events on the currencies.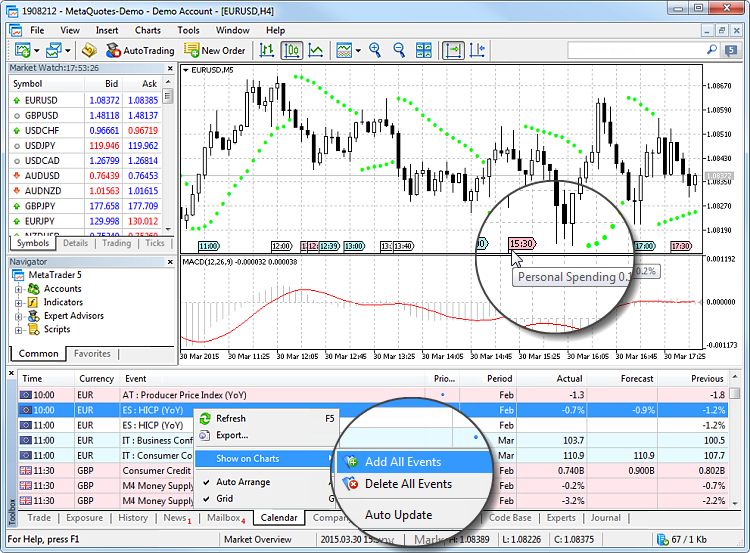 To add the indicators to the chart, click on "

Add All Events" in the context menu of the calendar.