When dragging an object using its moving point (central point) snapping does not work.
How to Modify an Object
After the object has been created, it can be moved or modified. To do so, select the object first by tapping on it. The object can be considered as selected if markers (object points) appear. The markers are used for moving objects and changing their drawing parameters.
Thus, for example, to change the Fibonacci Fan location, hold its central marker and move it to the desired position. Moving of any of its extreme markers changes the object drawing parameters.
To delete an object or call its properties long-tap (about 1 sec) on it on the chart.
How to Delete an Object
All objects applied to a chart become unnecessary sooner or later, and they can be removed using the object managing menu. Tap

in the radial menu. Tap

at the top of the window, select the objects to delete, and then tap

.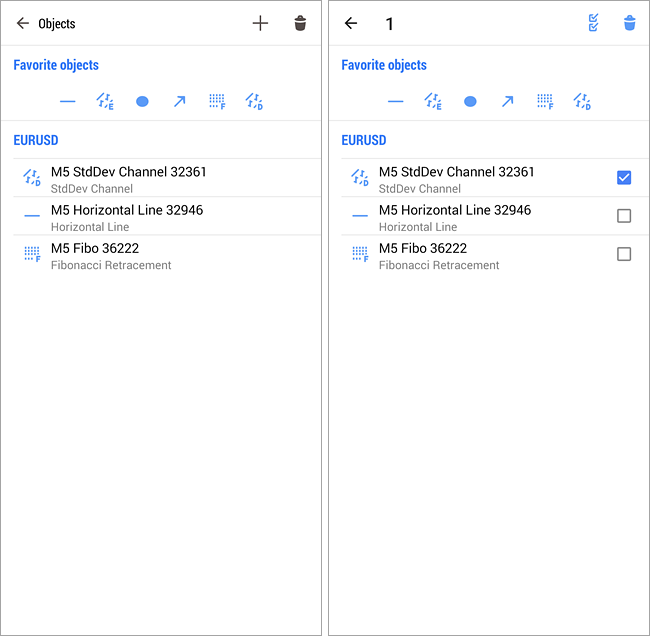 Object Properties #
Every object has its specific properties. Properties can differ depending on the object. In order to control the properties of an object, tap on the object to select it, and then long-tap on it. A menu will be opened in the upper part of the window, where you should tap
.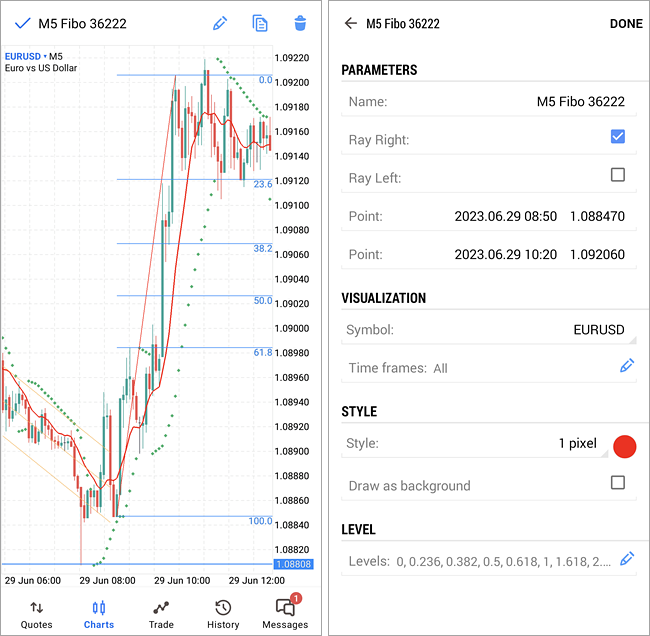 The following is available here:
Name

– the unique name of an object within one chart, it is set automatically. It can be changed if another name is entered in this field. Such names make it easy to find an object among many other objects of the same type;

Ray right/left

– displaying trend lines as rays in the specified directions;

Point

– one or several snap points along the time and price axes.

Symbol

– selecting a symbol, the object will be displayed on the charts of this symbol.

Style

– object lines style. Color, style and width of lines can be set here.

Levels

–

specific display settings for the levels of Fibonacci tools and Andrews' Pitchfork.
Some object have specific properties like "Gann Angle", "Pips per bar". etc. Description of these properties in available in corresponding object sections.