Typical Price (HLC/3)

– based on the typical price: (High + Low + Close)/3.

Weighted Close (HLCC/4)

– based on the average weighted close price: (High + Low + 2*Close)/4.
First indicator's data

– based on the values of the first applied indicator. The option of using the data of the first indicator is only available for indicators in a separate window, because in the main chart window the first indicator is the price.

Previous indicator's data

– based on the values of the previous indicator.
For some indicators, additional levels can be enabled. When constructed in the main window, levels are plotted at a specified distance from the main line, thus creating a channel. For indicators plotted in the additional subwindow, the levels are shown as horizontal lines. To construct the levels, select Levels in the indicator properties and click "Add level". Next, enter a value in points and a description (optional). The line color, width and style for the levels can be set up below.
Display settings are available for all indicators. These include the color, type and thickness of each line. To open the settings, click on the line name. You can also manage the display of indicators on different timeframes. If the indicator is not suitable for certain chart periods, it can be hidden to free up space on the screen for other analytical tools.
Please see the description of the relevant indicator for details of how to set up specific parameters.
Removing Indicators #
You can delete indicators as follows: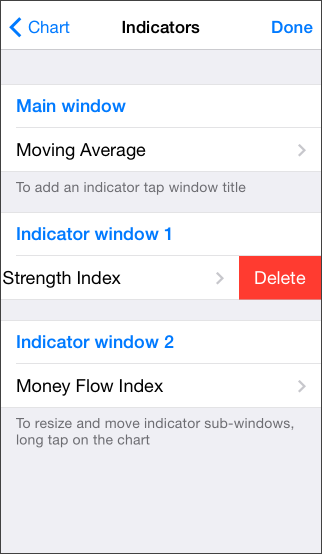 Modifying Indicators
To change the parameters of an indicator, tap on it in the "Indicators" screen.