Construction of Waves
Two objects are available in the platform - Impulse and Corrective waves. To apply waves on a chart, five points should be defined for an impulse wave and three - for a corrective wave. Settings are identical for both objects, but they should be specified separately: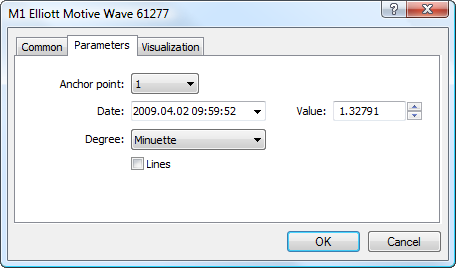 Anchor Point

— select one of points for plotting an impulse or corrective waves;

Date/Value

— coordinates of the selected anchor point (date/value of the price scale);

Degree

— select the cycle level influencing also the displaying of point markings;

Lines

— if this field is selected, all points of an impulse or corrective wave will be sequentially joined.
Common parameters of object are described in a separate section.