MetaTrader AppStore Results for Q3 2013
Another quarter of the year has passed and we have decided to sum up its results for MetaTrader AppStore - the largest store of trading robots and technical indicators for MetaTrader platforms.
First of all, AppStore for MetaTrader 4 has been released in beta mode and the final version is to be launched soon. However, trading robot developers can already publish their MQL4 applications there. More than 200 programs have already passed the tests. They will be available for traders immediately after MetaTrader 4 Market is launched.
More than 500 developers have placed over 1 200 products in MetaTrader AppStore by the end of the reported quarter. This exceeds the previous quarter results by one third. The largest share among the published applications is occupied by trading robots (45% of the total number of products) and technical indicators (34%). AppStore visitors can also purchase panels, analyzers and various utilities to expand the possibilities of their trading platform.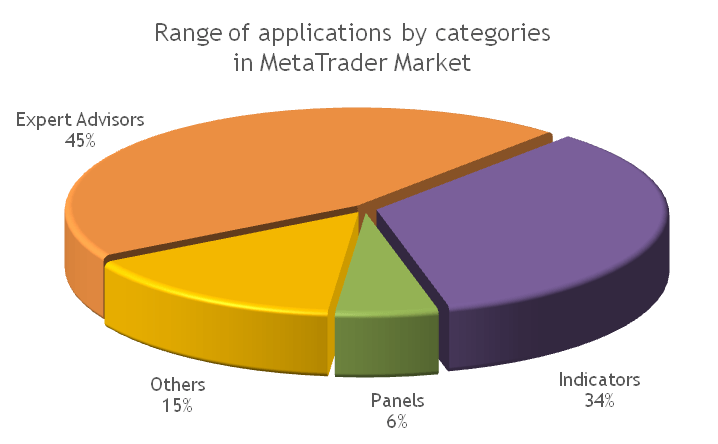 Along with the increase in the number of developers and products, the number of traders actively using the Market is also growing. The milestone of 150 000 downloads of trading robots and technical indicators has been reached in the third quarter. This number includes installations of free and commercial product versions since the launch of AppStore. The breakpoint of 100 000 downloads has also been passed just a little while ago - in the second quarter of this year.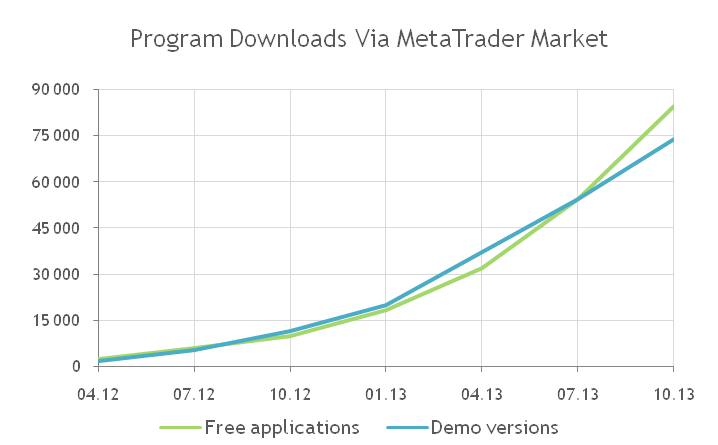 Sales

The sales of MetaTrader AppStore commercial products maintain a high growth rate (increased by 33% comparing with the previous quarter) and steadily increase in proportion with the number of downloads. This can be explained with the influx of new visitors to the AppStore and growing number of resales to the current clients - over 36% of buyers have purchased two or more AppStore products (+2% comparing with Q2 2013).

The third quarter has not brought any significant changes to the structure of sales by product categories. Technical indicators are still the most popular products in quantitative terms (45% of total products bought). Trading robots run a close second (41%). Panels occupy the third place with 6%.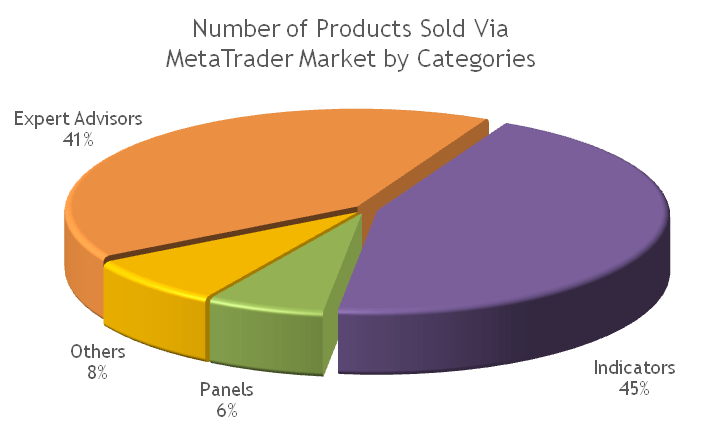 In monetary terms, trading robots (Expert Advisors) leave all other product types far behind. This product category occupies 85% in MetaTrader AppStore's total turnover. Trading robots are followed by indicators (9%) and panels (5%).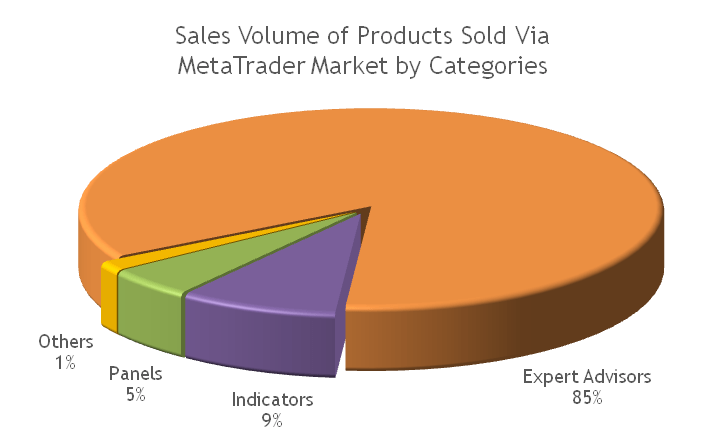 MetaTrader AppStore TOP-10 Sellers

We have again prepared the list of TOP-10 Market sellers summarizing the results of Q3 2013. The list includes the best of 500 developers of trading robots and technical indicators with the highest sales volumes for the reported period.
TOP-10 MetaTrader AppStore sellers (Q3 2013):

For Q3 2013, the rating has changed significantly. First, we have a new leader - the newcomer arnbober. He has provided two products for sale - trading robots of Bobra series. Both of them enjoy popularity and have good sales volumes. Second, our top list has as many as seven newcomers. They have entered the list while selling various products: trading robots, technical indicators, analyzers and utilities. For example, a seller DC2008 sells only Analyzers.
The total sales of the TOP-10 sellers have comprised 39% of the overall amount of programs sold in Q3 2013. This is 4% less than in Q2 which can be explained by the growing number of sellers and sold Market applications. Our list of top sellers may change further after AppStore for MetaTrader 4 is officially launched. We will certainly follow up on this.
Prepare your MQL4/MQL5 applications for MetaTrader 4/5 and sell them on the multi-million market.