Working with C++ DLL
MetaEditor allows to work with third-party С++ files easily when writing MQL4/MQL5 programs.
C++ DLL Compilation
When writing MQL4/MQL5 programs, MetaEditor allows to compile third-party C++ DLLs to provide maximum ease of their use.
Compilation of C++ source codes is performed with MS Visual Studio compiler installed in the system. MS Visual Studio 2008/2010 (including Express Edition) are supported.

MS Visual Studio version (32 or 64-bit) must match MetaEditor version.

A special online service will be available in the future for C++ source codes compilation. This will allow to perform compilation without installed MS Visual Studio.
C++ source codes files (CPP and H) can be edited the same way as MQ4, MQ5 and MQH files: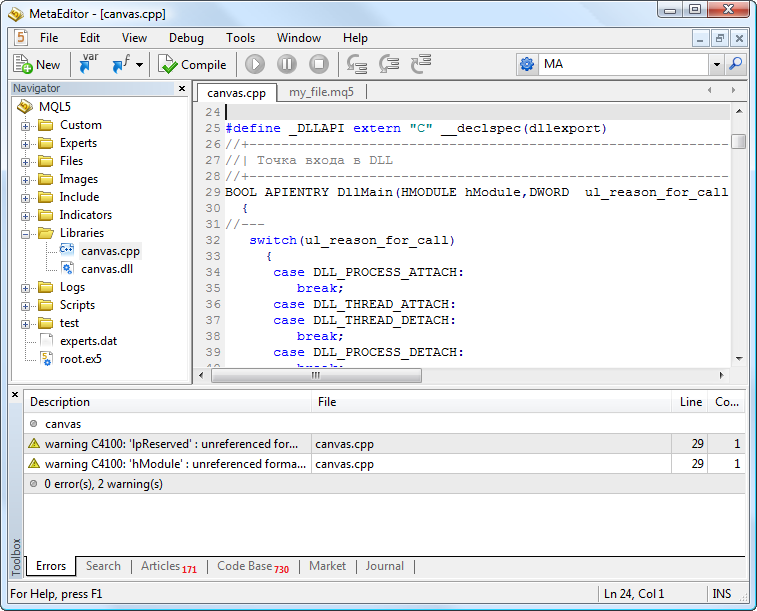 Thus, it is possible to debug and modify custom DLLs written in С++ right in MetaEditor.
Importing DLL Functions
MetaEditor provides the possibility to add exported DLL functions to MQL4/MQL5 file automatically by simple dragging.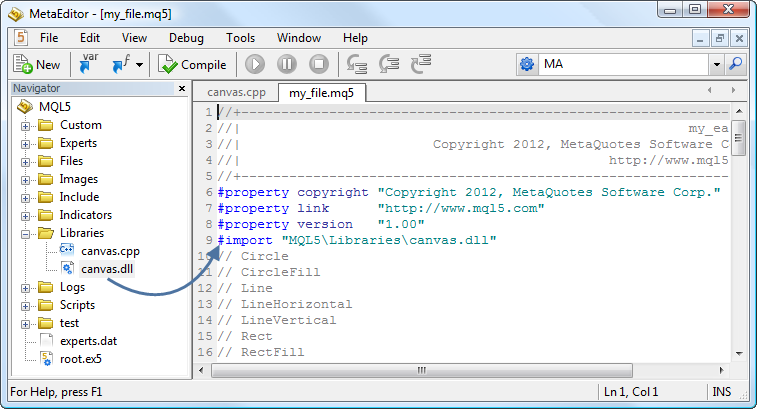 Just drag a DLL file from "Navigator" window to an open MQ4, MQ5 or MQH file.