Share Screenshots of Charts via MQL5.com – It Is Really Convenient!
Authorization on MQL5.com via third-party services, the new profile of the Community participants, the new «Attract Visitors» feature and the updated chat system – lots of improvements have already been implemented to make our services more sociable. With the release of the new version of MetaTrader 5 trading platform, one more improvement has been added.
The terminal now allows to quickly post a screenshot of a chart on MQL5.com. Just right-click and select «Save As Picture» and your screenshot will be immediately posted on mql5.com.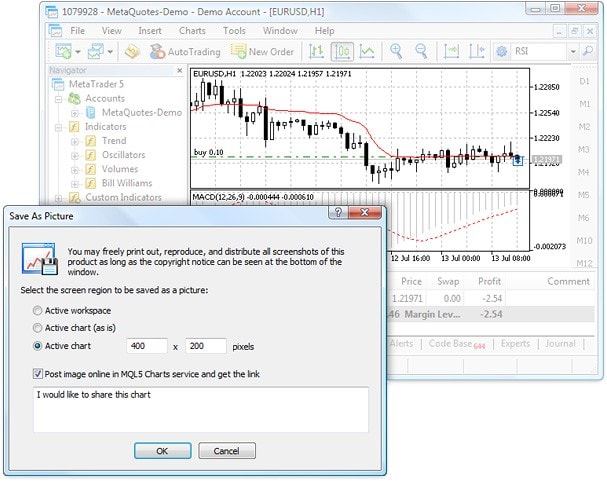 You will get an address of the screenshot, which you can share with your friends, insert to your website as a code or post in one of the popular social networks. Facebook, Twitter, Pinterest, VKontakte, Google Plus, LinkedIn, Evernote, LiveJournal – share it anywhere you like just in one click! Note that you even do not need to have MQL5.com account to use this service.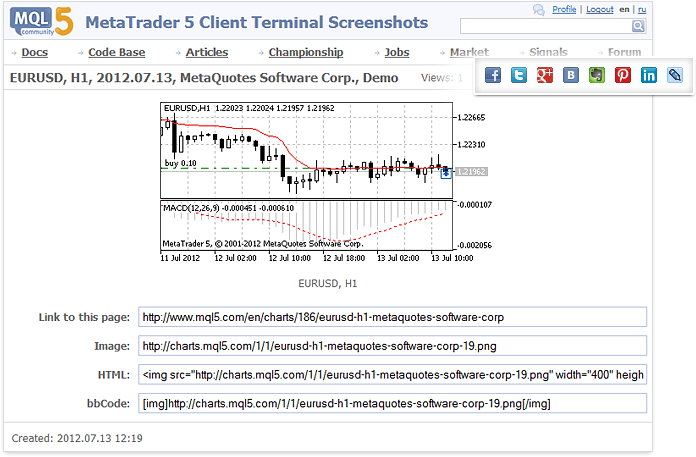 Also, your MQL5.com profile now has «Charts» section where all your screenshots are stored. Thus, you can always find them easily.
Most importantly, all this happens quickly and directly at MQL5.com. Take your screenshots and share them with your friends in an instant.

All barriers are gone now!