Happy New 2015 Year!
Dear friends!
We wish you a happy new year! May it bring you professional success, creative power, steady development and prosperity. Let the upcoming year be good, exciting and full of positive moments!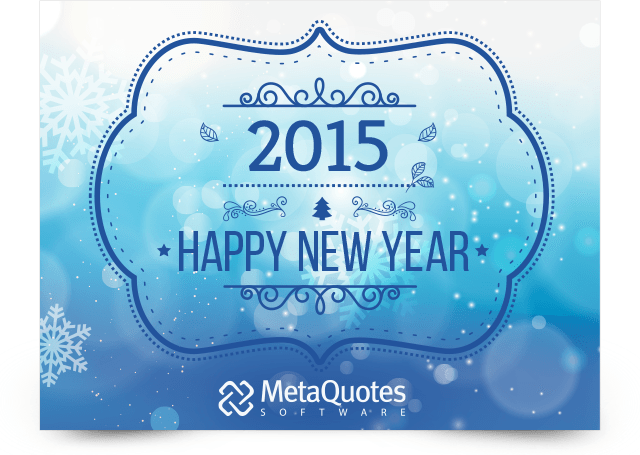 The year of 2014 has been extremely fruitful for MetaQuotes Software. We have managed to reach the new technological frontiers and implement our plans. One of the main events of the year is the launch of MetaTrader 5 platform on FX Market part of Moscow Exchange (MOEX). Now, traders from Russia are able to trade the ruble pairs using the most powerful platform with loads of built-in services.
The mobile versions of the trading platforms have also been considerably improved. The completely new restyled version of MetaTrader 5 for Android with the depth of market, tick chart and news appeared in Google Play one month ago. MetaTrader 4 Android is to be enhanced soon. Development of the iOS versions is also underway.
This year, we have also launched the virtual hosting service allowing traders to rent a virtual server directly in MetaTrader. This is the most efficient solution for arranging uninterrupted work of trading robots and Signal subscriptions.
Following MetaTrader 5 platform, MetaTrader 4 now features the app store of its own, which has already become the main resource for buying trading robots on the Internet. Apart from Expert Advisors and indicators, the Market now contains financial journals and books as well.
Trading signals have been thoroughly revised as well. We have improved their look in the platforms, optimized and enhanced their description, expanded trading statistics and eased the rules by allowing partial copying and manual trading. This has led to even greater demand for copy trading built right into the platform.

More and more traders discover the benefits of Jobs service for MetaTrader 4/5. This summer, we published the interesting infographics revealing that more than 10 000 orders worth about $600,000 in total had been executed, while 3 000 customers and 300 developers had already used the service by that time!
Six months ago, we also launched the service of financial blogs - a convenient place for exchanging views, fresh information and new ideas on trading. Now, the most important financial news selected by the moderators from the multiple blog entries are sent directly to the platforms and viewed by millions of MetaTrader users.

Thus, it is not surprising that the number of registered MQL5.community members has tripled over the year. In the beginning of January, we had 150 000 users. Now, their number exceeds 440 000!

New representative offices have been opened in the United Arab Emirates and Republic of South Africa. MetaQuotes Software is growing and reinforcing its presence on the world map.
We become closer to our customers, no matter where they are. The amount of our products and services is rising, and their usability is constantly improving.

Thank you for your support, feedback and the right choice! Happy New Year!