MQL4/MQL5 Wizard
MetaEditor includes the MQL4/MQL5 Wizard that helps to produce MQL4/MQL5 programs quickly.
With the MQL4/MQL5 Wizard a trader with no programming skills can create Expert Advisors. All that is needed to do is to select trading signals for an Expert Advisor, money management and trailing stop algorithms. The Expert Advisor code will be generated automatically based on selected parameters.
In addition, the MQL4/MQL5 Wizard allows to create MQL4/MQL5 programs templates simplifying the work of a programmer. A template is a file designed for writing a source code. After it has been created, it is automatically placed in an appropriate directory, depending on the selected type of MQL4/MQL5 program. During the creation a user can select event handlers that will be added to the template. Therefore, the MQL4/MQL5 Wizard allows to reduce the time spent on routine tasks when creating programs.
MQL4/MQL5 Wizard can be called with the command "

New" of the "File" menu or"Standard" toolbar. Also, Ctrl+N hot keys combination can be used.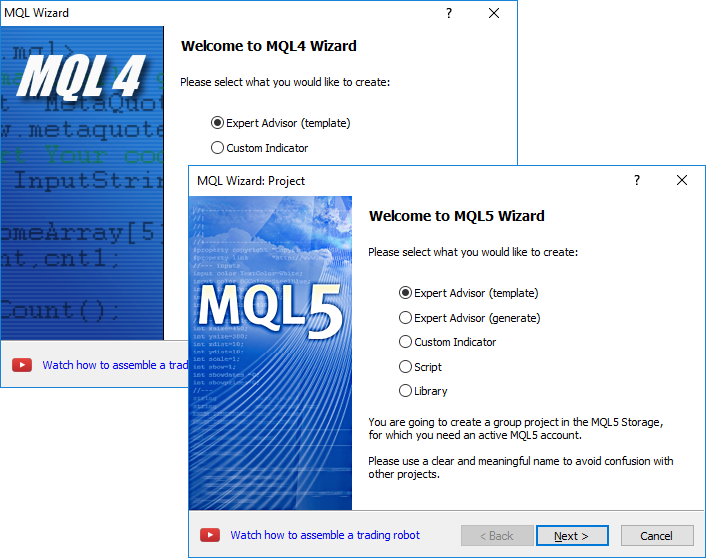 The first step of working with the Wizard is the selection of the created project type:
Select the necessary project type and click "Next". Descriptions concerning the creation of definite applications are given in the following sections.