MetaQuotes Software Corp. a 15 ans!
Aujourd'hui, MetaQuotes Software Corp. a 15 ans — 15 ans d'évolution, de leadership et d'innovations technologiques.
Les plateformes de trading MetaTrader 4 et MetaTrader 5 développées par la société sont devenues des standards dans l'industrie et populaires parmi les millions de traders autour du monde. En 15 ans, des milliers de builds publiés, des millions de lignes de code, et une amélioration continue des services et des produits. Les plateformes MetaTrader ont parcouru du chemin, évoluant d'un outil pour le trading à un éco-système complet offrant une variété de services, tels qu'une boutique d'applications de trading, le trading social, un hébergement virtuel intégré, un service freelance et bien plus.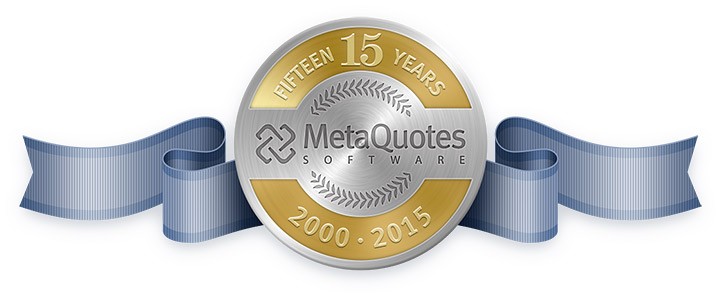 La société grandit encore plus, renforçant sa présence dans le monde entier. En 2015, MetaQuotes Software a ouvert des bureaux au Japon, en Thailande, et au Pakistan, montant ainsi le nombre total de nos bureaux à 12 ! Cette année, MetaTrader 5 a été lancé sur les places boursières Borsa Istanbul (BIST), Brazilian Securities, Commodities and Futures Exchange (BM&F Bovespa), Dubai Gold and Commodities Exchange (DGCX), Stock Exchange of Thailand (SET), South African Futures Exchange (SAFEX), et Pakistan Mercantile Exchange (PMEX).

Cette année a également été un year has also seen a percée dans le web trading. La société a lancé la plateforme web MetaTrader 4 permettant à tout le monde de trader via les navigateurs Internet. Cet évènement a suscité un grand intérêt parmi les courtiers — plus de 100 sociétés ont commandé la plateforme web et ont commencé à l'offrir à leurs traders dès le premier mois après sa sortie.
La gamme de robots de trading et d'indicateurs techniques disponibles dans le Market a été considérablement élargie — plus de 6.800 applications différentes sont disponibles en téléchargement. Il est maintenant possible non seulement d'acheter mais également de louer des robots de trading. Les plateformes MetaTrader pour iOS et pour Android sont développpées activement également. Enfin, la version japonaise du site Internet MQL5.com a été lancée et plus de 30 tutoriels vidéos pour les traders ont été publiés.

Nous continuerons à améliorer nos produits et sommes désireux de vous remercier encore pour votre choix et votre support depuis toutes ces années. 15 ans n'est pas une période particulièrement longue pour une puissante compagnie, ce qui signifie que de nombreuses choses excitantes sont encore à venir !