Technical Analysis Software for Forex Trading
Technical analysis of the forex and stock markets is an integral part of trading. It helps identify various symbol trends, define support/resistance levels, forecast price dynamics and much more. In other words, technical analysis allows to have "a peek into the future" and use this advantage to earn more profits.
Technical Analysis tools in MetaTrader 5:
38 technical indicators
44 analytical objects
21 timeframes
minute history
unlimited number of charts
The essence of such technical analysis software is to study charts of financial instruments using technical indicators and analytical tools. MetaTrader 5 provides a large set of such analytical means. 38 technical indicators and 44 graphic objects are available for the best technical market analysis of price dynamics. In addition, you may combine all these instruments to obtain more detailed forex forecasts.
Technical Indicators
The Technical Indicator is the most important tool for technical analysis of the financial markets. It works automatically to detect different patterns in the price dynamics. Based on this information, traders can assume further price movement and adjust their strategy accordingly.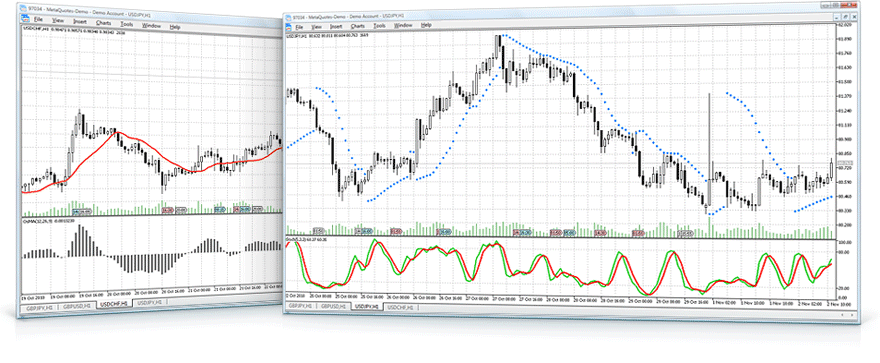 The essence of the forex indicator is to transform the accumulated history data. This provides for an opportunity to detect various peculiarities and patterns in price dynamics which are invisible to the naked eye. For example, Parabolic SAR Technical Indicator is used for defining the moments when the ongoing trend turns to the opposite direction.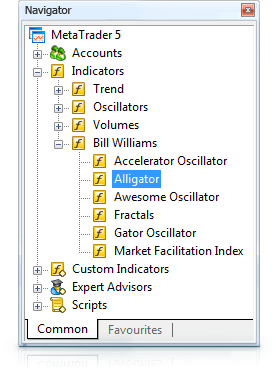 Since the appearance of financial markets many technical indicators have been developed. The most popular technical indicators are included into the MetaTrader 5 Trading Platform, so any trader can utilize them for forex and stock technical analysis. For convenience, the indicators are divided into several groups: trend indicators, oscillators, volume indicators and Bill William's tools.
Most of the forex indicators are adjustable, allowing to adapt the tools to any specific tasks. You can control both analytical parameters and settings responsible for the indicators' appearance. For example, you may change the calculation period of Moving Average as well as adjust the color, width and type of its line.
Forex indicators can be plotted on the price charts or in a separate sub-window with a specific scale of values. Moreover, one indicator can be applied over another one. For example, you may apply a Moving Average on DeMarker and obtain a line of averaged values.
In general, MetaTrader 5 offers traders an elaborate set of tools for the full-fledged technical analysis. Even the most demanding traders can use additional technical indicators written in MQL5. Hundreds of programs published at MQL5.community are available to any trader, expanding further the analytical possibilities of market analysis. Complimentary information about the additional indicators can be found directly in the MetaTrader 5 Trading Platform.
With the MQL5 development environment, traders can also create their own technical indicators. All the necessary tools are available in MQL5 and a lot of useful information is published on the MQL5.com website.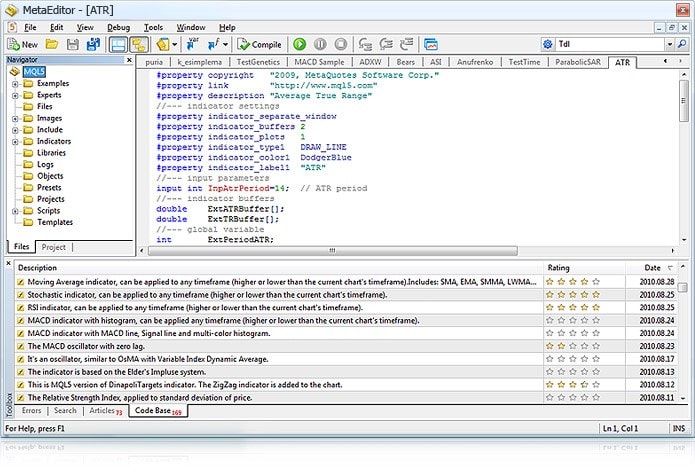 Analytical Objects
Unlike technical indicators, graphical objects must be applied manually. Identifying trends, plotting channels, defining cycles and support/resistance levels - all these and many other tasks can be solved with the help of analytical tools.
Analytical instruments can be applied both on charts and on indicator windows
MetaTrader 5 offers 46 graphical objects, each of which help simplify stock market analysis. They include geometric shapes, channels and cycles, Gann, Fibonacci and Elliott tools and much more.
Objects control is intuitive and will not cause any difficulties. To apply a tool, a trader only needs to specify a few control points to plot the object. After that the required analytical object will appear on the screen.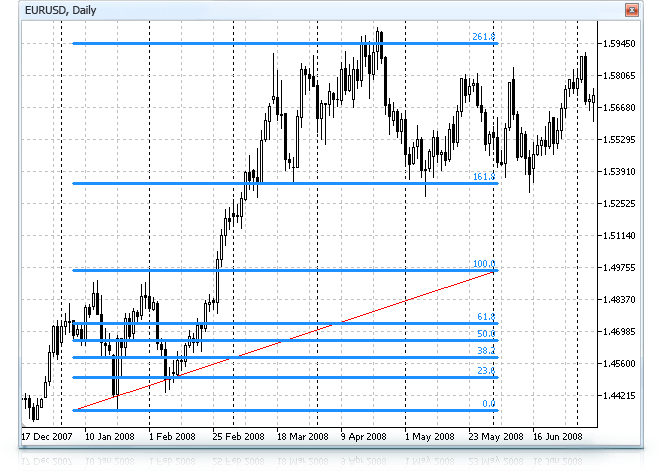 Like with technical indicators, traders can also set up calculation parameters and the appearance of graphical objects. For example, for Fibonacci lines you can set custom levels and the line color.
The impressive number of technical analysis software available in the MetaTrader 5 platform covers most of the needs of the technical analyst. And with the possibility to use MQL5 Technical Indicators, the analytical opportunities of the platform seem limitless.
Read more about the fundamental analysis in the MetaTrader 5 Trading Platform >>
MetaTrader 5 — a complex trading platform for providing brokerage services on the retail Forex market.
Copyright 2000-2016, MetaQuotes Software Corp.