MetaTrader 5 Trading Platform - Best Forex Brokers Choice
Do you want to start a online brokerage business and become a Forex Broker or Stock Broker? The MetaTrader 5 trading platform is the best solution for you! With MetaTrader 5 you can run your brokerage firm in various financial markets including Forex and Stocks.

Forex Trading Platform Functionality
The platform enables you to manage traders' accounts, process trade operations, receive and translate news and prices of financial instruments. In addition, MetaTrader 5 can create and maintain backup copies of all information that appears in the trading platform. This is an extremely important function when it comes to traders' accounts.
MetaTrader 5 is built with an advanced security system that will help you organize system access and reduce security risks to zero. While the powerful system of traffic encryption will protect your interactive broker business and your clients from hacker attacks.
With the use of the exceptional MetaTrader 5 API you can expand the functionality of the system making its capabilities virtually limitless. Using open interfaces you can customize most MetaTrader 5 components, expand their functions or integrating the entire trading platform with other software.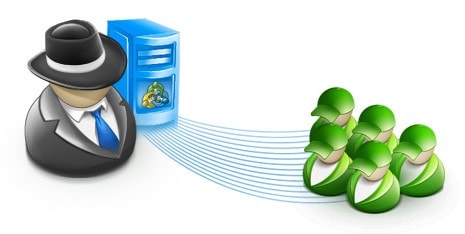 The web services allow you to deliver some of your services on the Web (private area, depositing, web trading and so on) and expand the portfolio of your services. The sophisticated system of trading reports provides always up-to-date information on the company's financial performance and the state of the trading platform.
MetaTrader 5 Trading Platform is smartly designed to suit all your traders. With the trading platform they receive powerful analytical and trading tools. They get technical analysis and fundamental analysis, support of all types of orders, a flexible trading system, automated trading and development of custom technical indicators. In short, the MetaTrader 5 Trading Platform provides for everything that a modern trader may need and even more!
Read more about the MetaTrader 5 Trading Platform >>
Architecture of MetaTrader 5 Trading Platform

MetaTrader 5 is a complete trading platform. This advanced trading software includes all elements needed to perform best forex broker services with no additional software required.
The front-end components include trading terminals and web services, which are free. Back-office components, on the contrary, are available only to a brokers and they are responsible for the work of the entire trading platform. In MetaTrader 5 the back-office components are various on feeds, servers together with add-ons.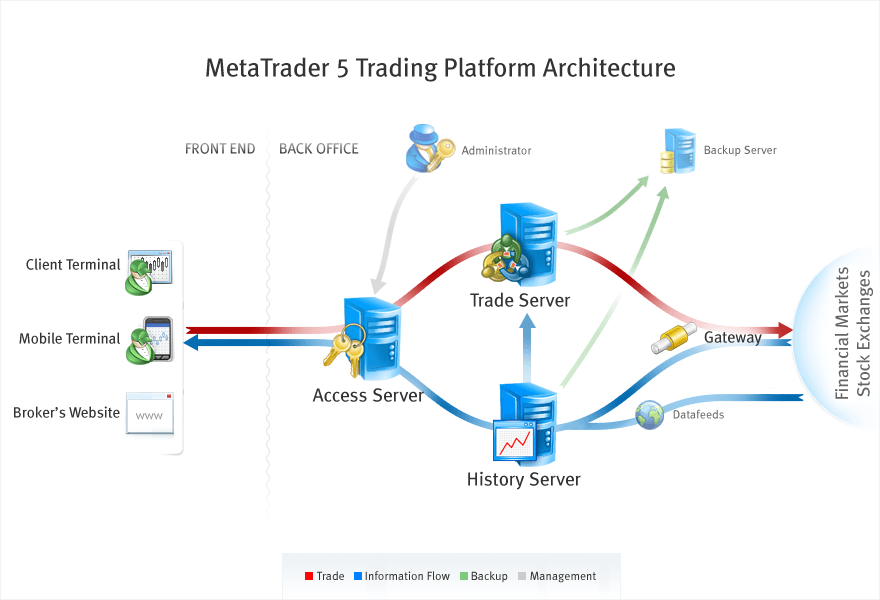 MetaTrader 5 superior performance and speed characteristics allow serving more traders with a lower requirement on the hardware specification. Today MetaTrader 5 is one of the fastest, most efficient and cost-effective trading platforms in the world.
In addition, MetaTrader 5 Platform is based on a distributed architecture, where different functions are separated between different servers. This gives to a broker large increase on the performance of the system by increasing the number of servers. At any time you can add an additional server to the trading platform to increase its overall performance or reduce the load on its individual components. The scalability of the trading system provides a perfect solution for high growth allowing brokers to keep control over the trading platform and preserve the highest quality of services.
With the MetaTrader 5 distributed architecture you can create any configuration of the trading platform to meet your specific needs. For example, you can use several MetaTrader 5 Access Servers (access points) combined with a single MetaTrader 5 Trade Server that will process trade operations.
Another advantages of such an architecture is the high resistance to various hacking attacks. Trade servers can be hidden behind multiple access points which operate like advanced firewalls. In this case the trade servers will run in a normal mode, while the information stored on them will be absolutely safe.
Today MetaTrader 5 is one of the best trading platforms for providing broker services on financial markets: Forex, Stocks, Futures & CFD. Dozens of successful interactive forex brokers have already chosen it for its premium performance and flexibility. Buy MetaTrader 5 Trading Platform and join them!
MetaTrader 5 — a complex trading platform for providing brokerage services on the retail Forex market.
Copyright 2000-2016, MetaQuotes Software Corp.