Free Forex Robot Generator - MQL5 Wizard
The MetaTrader 5 Trading Platform includes the MQL5 Wizard, which allows to quickly generate code of an Expert Advisor (Expert Advisor builder). With MQL5 Wizard, knowledge of programming languages is no longer a prerequisite for creating trading robots. In the past, it really was an impassable obstacle to create automated trading strategies, but the release of the MQL5 Wizard changed the situation radically. With this new expert advisor builder, the programming experience is not required - the application will do all the necessary work to create a free Expert Advisors.
Virtually every MetaTrader Expert Advisor consists of three modules - trading signals, money management and trailing stop. And because the modules can be implemented in various ways, there are a lot of possible combinations of Expert Advisors. Thus, every trader can construct trading robots to their liking. It is only necessary to specify the desired parameters and select the necessary components - and the Expert Advisor Builder will do the rest. The creation of free trading robots has never been so quick and simple. Only four clicks - and the free Expert Advisor is ready to trade according to a user-defined strategy!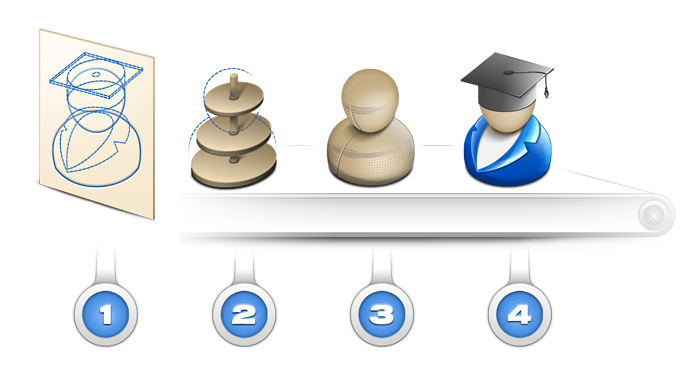 To what trading signals will an MetaTrader Expert Advisor respond? What money management system will it use? How will the trailing stop be implemented? If you can answer to these questions, then it is easy to create an algorithmic trading system. After compilation, you only need to test the Expert Advisor that you have built of blocks, and then optimize it by choosing the best parameters. After these steps, you will get a workable trading robot, completely ready to trade. It will trade in accordance with the selected algorithms of trading signals, money management and trailing stop.
The main advantage of the Wizard is its convenience. The program allows simplifying the process of trading robots development, creating different Expert Advisor modules for you. With the new Wizard, the construction of automated trading systems is now available not only to MQL-developers, but also to ordinary traders who do not have any programming skills.
MQL5 Wizard is the tool for automatic creation of free forex robot in the shortest time, available to the traders who don't have programming skills. Download MetaTrader 5 now and test the MQL5 Wizard.
MetaTrader 5 — a complex trading platform for providing brokerage services on the retail Forex market.
Copyright 2000-2013, MetaQuotes Software Corp.