Charts
The MetaTrader 5 version for iPad devices has additional features for working with charts:
Viewing up to four charts simultaneously

One-click trading from the chart
Charts Functions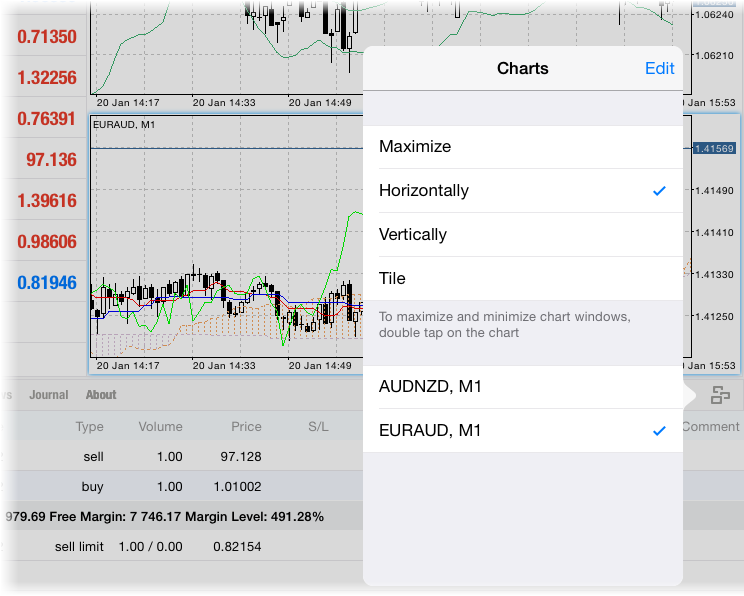 To open the charts managing window, tap

. The following commands are available in this window:
Maximize – expand the window of the selected chart for the entire workspace. The same action can be done by tapping the chart window twice.

Horizontally – position open chart windows horizontally.

Vertically – position open chart windows vertically.

Tile – position open chart windows in tiles.
The list of currently open charts is located at the bottom. Each chart can be made active if you tap its name (symbol and time frame).
Radial Menu #
The radial menu is opened by a single tap on the chart: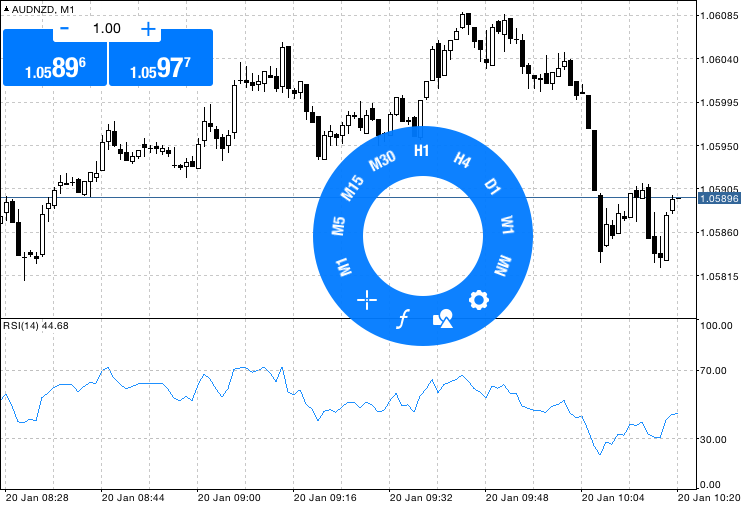 This is a convenient menu for working with the chart, allowing users to:
One Click Trading #
A special panel has been implemented to allow performing trading operations right from the chart. To activate it, tap

in the upper left corner of the chart next to the symbol name.
The appropriate option should be enabled in the chart settings to be able to trade in one click.

One-clicking trading panel button appears only when the chart is expanded to full screen width (the right panel for managing accounts, symbols, etc. should be hidden).
Using this panel you can instantly send buy or sell market orders with specified volumes.
When trading in the instant execution mode, the last used price deviation is set in the orders.
In case of a requote, an appropriate log is added to the journal and the requote sound is played (sounds should be enabled in the settings).