MQL5.community
The client terminal and MetaEditor are tightly integrated into MQL5.community website — a community of MQL5 developers. The MQL5.community provides unique services to traders and developers:
Signals

— subscribe to professional traders trading signals and get them directly in your client terminal.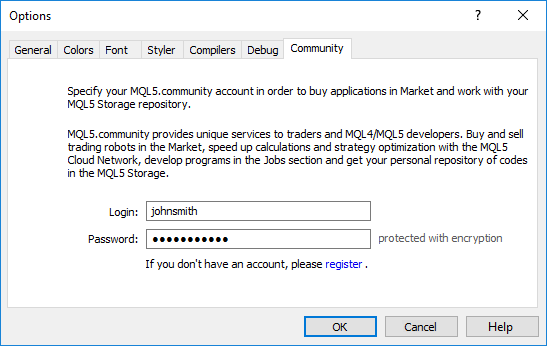 Enter your account detail and get access to all the unique services of the MQL5.community:
Login

— your account at MQL5.community.

Password

— password to the specified account.
The password is kept on the hard drive in an encrypted form.

The login as well as the password is case-sensitive. It must exactly match the login at MQL5.community.

If you do not have an MQL5.community account, please register and get access to unique opportunities. You will also receive a bonus of 2 credits for testing through the MQL5 Cloud Network.