Articles
This tab contains headings of all articles published on the MQL4.community/MQL5.community web site.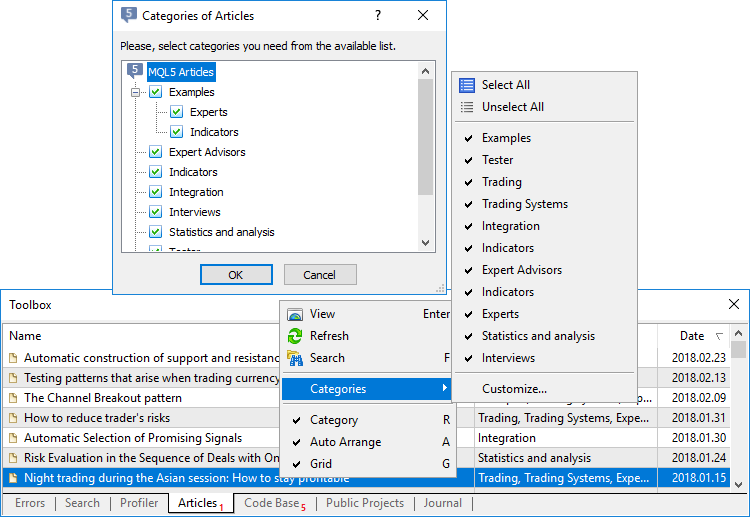 Articles are excellent reference materials describing how to create programs in the MQL4/MQL5 language. The list of publications increases constantly aiming to cover the programming process to the full extent. All the articles are displayed as a table:
Name

— name of an article;

Category

— category an article belongs to;

Date

— date when the article was published.
In order to view an article, double click on its name or click the "

View" command in the context menu. After that the article will open in a separate browser window.
Before reading an article, you can read a short description to it. To do so, hold the mouse cursor over its name.
Categories of Articles
Categories of articles that are displayed in the list, can be adjusted. To do it, click "Customize" in the context menu or double click on the "Category" column. After that the following window will appear: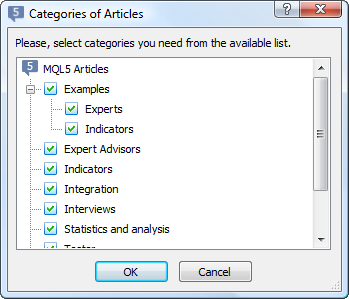 In the tree-structured list, check the categories that should be displayed.
Context Menu
The context menu of this section allows to execute the following commands:
View

— view a selected article;

Refresh

— refresh the list of articles;

Categories

— open the submenu of working with the categories of articles;
Select All

— select all categories for displaying in the list;

Unselect All

— hide all categories;

List of categories

— the list of all existing categories is shown below. In order to select a category, put a checkmark against it by a single mouse click;

Customize

— open the dialog of customizing categories;
Category

— show/hide the column of article categories. The same action can be performed using the "R" key;

Auto Arrange

— enable/disable the automatic setup of the column size. The same action can be performed by pressing the "A" key;

Grid

— show/hide grid to separate fields. The same action can be performed by pressing the "G" key.