How to Set Alert:
Push notifications can be sent to a mobile device from the desktop version of the trading platform and MQL5.community services.
Desktop Platform
There are two ways to send pushes from the desktop platform:
Through an MQL5 application
The special SendNotification function is available in the MQL5 language allowing an MQL5 application to send push notifications to MetaQuotes ID specified in the desktop platform settings.
Through the alerts function
The desktop version of the trading platform allows you to create alerts for notifying you about events in the market. This feature is available in the Alerts tab of the Toolbox window. One of the event notification types is push notifications.
To allow the terminal to send push notifications, open Options from the Tools menu. Next, go to the "Notifications" tab.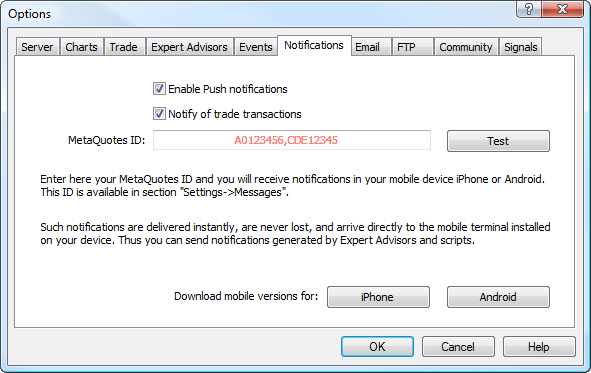 The notifications setup window includes the following options:
Enable Push notifications

– enable this option to allow the desktop platform to send notifications.

Notify of trade transactions

– the platform can automatically send notifications of all successful trade operations to the specified MetaQuotes ID. Notification of unsuccessful operations (for example, the order is rejected due to incorrect parameters) are not sent.
After you set up the options, specify one or more MetaQuotes IDs, separated by commas. To find your MetaQuotes ID, open the "Messages" page in the mobile version of the platform.
MQL5.community
In order to keep abreast of the latest events on the MQL5.community, community members can choose to receive notifications of updates on the site. At the moment, by subscribing to the push notifications from MQL5.community, the user will receive:
messages about confirmation of steps in the "Freelance" service;
messages about completed steps of publication of a product (Proof read, Published) uploaded by the user to the "Market";
To start receiving notifications, go to the user profile at MQL5.community and open contact information setup page: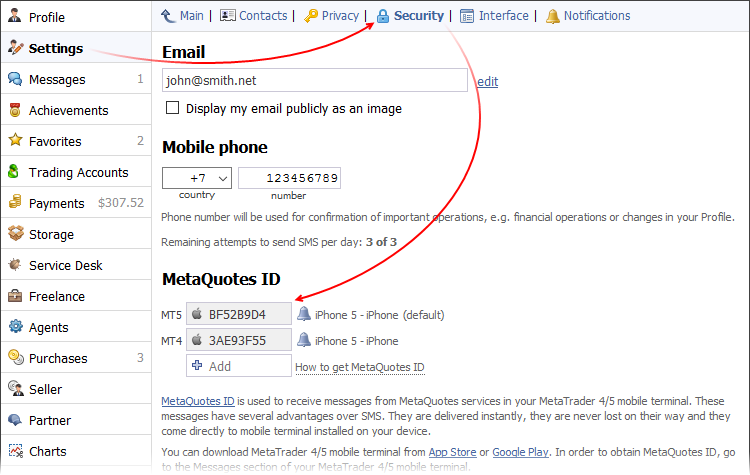 Indicate your ID in the MetaQuotes ID field. You can find it out on the "Messages" page of the mobile version of the platform.
In the "Notifications" section of the user profile at MQL5.community, you can select events you want to be notified of: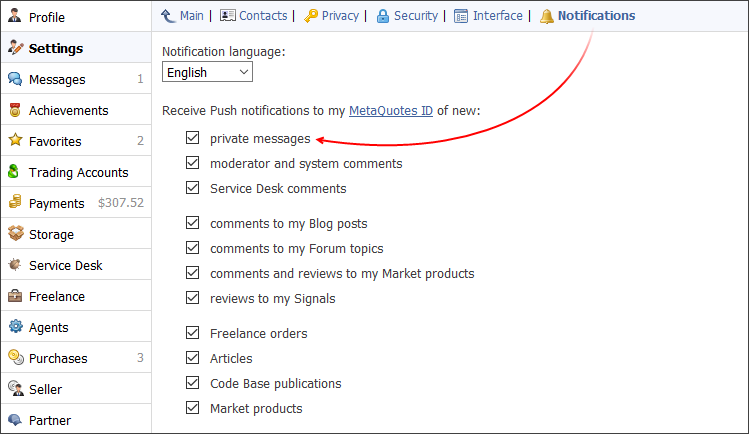 Your mobile device can register MetaQuotes ID only if a valid Google account is configured on it.