Working with the Virtual Platform
The rented virtual server status can also be easily monitored from the trading platform. The context menu of the server in the Navigator window allows you to: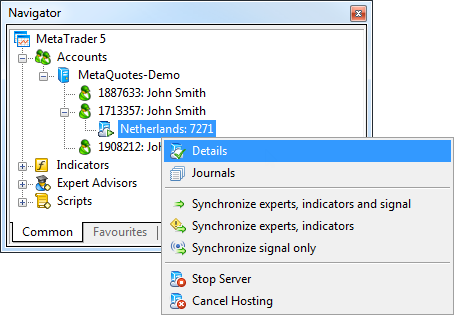 Watch video: How to control resources and manage subscriptions

Watch the video to learn how to analyze the virtual hosting resources report and how to control your subscriptions.
Details
To view the virtual server data, click "

Details in its context menu. The information is presented in several tabs.
Details
The following information is displayed here:
Hosting server name and your virtual platform ID.

Ping in milliseconds displaying the network delay between the virtual server and the trade server of your broker.

Virtual server status: started, stopped. Here you can also enable/disable the virtual server and cancel the rent.

The payment plan selected when registering the server.

The date of registration, the MQL5.community account for which the virtual platform is registered, and the current balance of the account.

Last synchronization date and its type. Here you can also perform immediate synchronization of the current platform environment.
CPU, RAM and Hard Disk
Graphs visualize CPU, RAM and hard disk usage. Make sure that your program does not consume too many resources.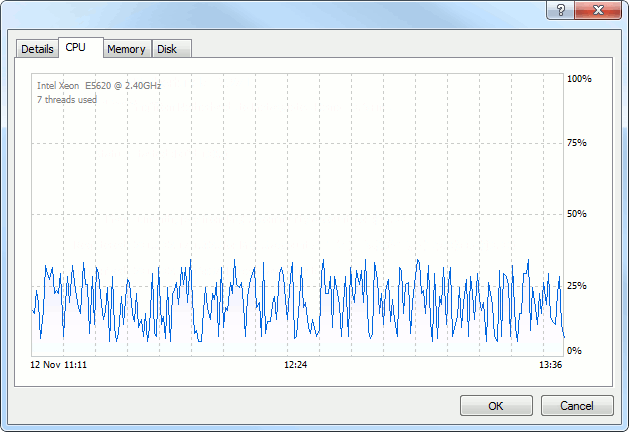 Virtual Platform Logs
You can view the virtual platform journal to control its operation.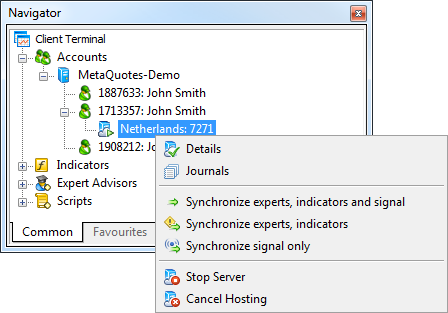 In the newly opened log window, you can set a piece of text the journal entries are to be filtered by and a desired interval. After that, click Request to download the found logs. Here you can also select the journal type:
Terminal

— logs about all events taking place in the platform including trade operations.

Experts

— information about the Expert Advisor and indicator operation.

The virtual platform logs are updated during each request and saved to [platform data folder]\logs\hosting.*.terminal\.
If a user requests too many records, only part of the first logs for the specified period are downloaded. This prevents performance degradation resulting from large logs. If you want to download further logs, you do not need to change the request period. Simply select the last line in the log viewer window and press PgDn.
Stopping the Server
Stopping the server means the temporary shutdown of the virtual platform. This action is similar to closing the platform on your computer. It is performed using the "

Stop Server" command in the server context menu in the Navigator window.
To launch the platform, execute the "

Start Server" command.
Canceling Hosting
Hosting cancellation means the virtual server is no longer provided and the virtual platform is completely deleted.
During cancellation, the virtual hosting is completely deleted with all data transferred to it during the migration.

No refund is made in case of hosting cancellation. The rental payment can be returned only within 24 hours after the virtual server has been registered.
To cancel hosting, click "

Cancel Hosting" in the server context menu in the Navigator window.